ScreamRide
SCORE: 75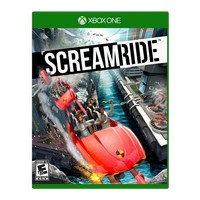 Family Friendly Gaming rented a copy of ScreamRide on the Xbox One. Requested this game from the Microsoft PR firm over thirty times. They were not capable of supplying any professional response to emails, real world letters, or calls. Which is a shame because their PR employees are denying their company hundreds of thousands of dollars in sales. I like ScreamRide, and know many of our readers would have financially supported it.
ScreamRide is part roller coaster builder, part roller coaster rider, and part destroy everything in sight. I like the building and riding personally. The Demolition mode is lame, wasteful, and makes the entire video game industry look bad. There is a career, and sandbox modes in ScreamRide. Sandbox is great for building your own rollercoaster rides.
I advise our readers to start in career mode of ScreamRide. That is where you unlock the areas, and a wide array of building objects. The more content you have to build with the better rollercoaster rides you can create. Being able to play the rollercoaster rides in ScreamRide is a blast. I love flying through those areas, and going up on two wheels. The longer you stay on two wheels the higher the bonus.
Please note that you can crash, and derail your rollercoaster in ScreamRide. It will let you reset back on the track back just a bit from where you went off the track. Demolition mode lets you launch an orb with people in it. The goal is to hit buildings and knock them down. Again I am not big on the destruction element of ScreamRide.
I plan on purchasing ScreamRide when it comes down to the twenty to twenty-five dollar range on the Xbox One. That is the price point I am willing to pay for this game. The roller coasters can get repetitive after a few worlds. The backgrounds are nice in the intros but totally ignored once you are on the rollercoaster. My focus was on the tracks.
- Paul
Graphics: 80%
Sound: 75%
Replay/Extras: 80%
Gameplay: 70%
Family Friendly Factor: 70%

System: Xbox 360/Xbox One(tested)
Publisher: Microsoft Game Studios
Developer: Frontier Developments
Rating: 'E10+' for Everyone TEN and OLDER ONLY
{Mild Violence}

Want more info on this product, the company that made this product?
Set web browser to:
Link

Got a question, comment, or a concern regarding this review?
Email them to:
pbury@familyfriendlygaming.com