Monopoly Family Fun Pack
SCORE: 68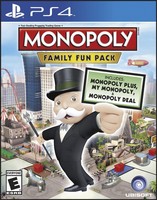 You should always be cautious of games you find on clearance. Especially video games that are not that old. We found Monopoly Family Fun Pack on clearance recently. I was all excited because on the surface this would be a great family friendly video game. Never ever judge a book by its cover. Monopoly Family Fun Pack on the Xbox One and Playstation 4 may be one of the worst video game monopoly versions of all time.
The controls in Monopoly Family Fun Pack are so clunky they lead to frustration. Having to purchase every new property or go into a bidding war will also lead to real world arguments. The most memorable thing about Monopoly Family Fun Pack is the real world arguments it creates. Instead of family unity, Monopoly Family Fun Pack generated strife.
I hoped Monopoly Deal would be awesome. Unfortunately it was not. Our family does not like that card game one bit. If you want to spend the time you can personalize your very own Monopoly game board. Families can also play other people online if they so choose. Another feature that does not appeal to us. Previous Monopoly games had a better bidding system than what is in Monopoly Family Fun Pack.
Monopoly Family Fun Pack looks okay graphically. Not much of an improvement from the Wii version. Sounds can get annoying. As can the roll of the dice that seem to gravitate towards making things worse for players. Hanging out in jail after much of the property has been purchased is one of the few strategies available to families. I recommend our millions of readers pass on Monopoly Family Fun Pack. Play older versions, the real thing, or wait for an improved version in the future.
- Paul
Graphics: 70%
Sound: 70%
Replay/Extras: 80%
Gameplay: 50%
Family Friendly Factor: 70%

System: Xbox One/PS4(tested)
Publisher: Ubisoft
Developer: Asobo Studio
Rating: 'E' - Everyone SIX and OLDER ONLY

Want more info on this product, the company that made this product?
Set web browser to:
Link

Got a question, comment, or a concern regarding this review?
Email them to:
pbury@familyfriendlygaming.com