Minecraft Xbox One Edition
SCORE: 80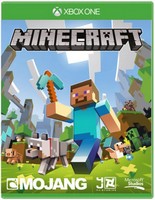 I saw Minecraft Xbox One Edition on sale on Black Friday. It was only a couple of dollars off. I am willing to pay twenty dollars for a brand new video game. Especially one that I know will get all kinds of use. Our boys are all into Minecraft. Or they used to be. The Microsoft purchase of Mojang has lessened their interest in Minecraft.
I have even created my very own level (Paul's Planet) that we plan on putting out there for all to enjoy. We just have to work out the logistics. The Xbox One version of Minecraft includes better graphics, larger worlds, and more options. If you are new to Minecraft start out in the Tutorial, then move to Creative. Finally when you are ready you can go to Survival. Creative is my personal favorite since I can build, and create whatever I can think of.
Minecraft Xbox One Edition is looking better. The blocky feel is needed to build and create in an efficient fashion. Everything looks good in Minecraft Xbox One Edition, especially the monsters. There are also plenty of animals to be found in Minecraft Xbox One Edition. The different biomes are cool to see and interact with as well.
There can be action adventure hack and slash violence in Minecraft Xbox One Edition. Only if you turn it on though. You can play Minecraft Xbox One Edition in a completely peaceful manner. Which is my personal preference. The church and pastor are still in the village which is great to see. Monster sounds can be freaky at times.
Up to four family members can split the screen and play Minecraft Xbox One Edition locally. There is also Xbox Live online for up to eight players. I believe you need to pay Microsoft a yearly fee to play online though. I hate to do that based on how Microsoft treats Christians like second class citizens.
Minecraft Xbox One Edition is done in the first person perspective. So you may get dizzy or feel sick after playing it. I did a couple of times here and there.
- Paul
Graphics: 67%
Sound: 78%
Replay/Extras: 90%
Gameplay: 85%
Family Friendly Factor: 80%

System: Xbox One
Publisher: Microsoft Games
Developer: 4J Studios/Mojang
Rating: 'E10+' - Everyone TEN and OLDER ONLY
{Fantasy Violence}

Want more info on this product, the company that made this product?
Set web browser to:
Link

Got a question, comment, or a concern regarding this review?
Email them to:
pbury@familyfriendlygaming.com