Klax
SCORE: 90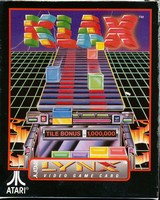 I need to send a shout out to Tim Emmerich of Graceworks Interactive for letting me borrow his Atari Lynx library to do reviews. Klax is the first game I checked out. I missed this franchise. It is a puzzle game where different colored tiles roll along a conveyor belt. The player must match the colors vertically, horizontally, or diagonally.
As you play Klax the speed of the conveyor belt gets faster. There are more and different colors to deal with. The graphics of Klax look great on the Atari Lynx. The sounds and music are very nice. The noise gets louder as a tile gets closer to the bottom. It will grab your attention.
Klax is played with the Atari Lynx turned sideways. This felt weird at first. Then I remembered Nintendo copied this concept on the Nintendo DS. I adapted to it rather quickly. I found the game play in Klax to be very enjoyable. So much so that I have put this game down on my wish list to purchase for myself at some future date.
If you have an Atari Lynx, then look into purchasing Klax. You can find Klax on other systems as well.
- Paul
Graphics: 90%
Sound: 90%
Replay/Extras: 90%
Gameplay: 90%
Family Friendly Factor: 90%

System: Atari Lynx
Publisher: Atari
Developer: Atari
Rating: 'NR' - Not Rated

Want more info on this product, the company that made this product?
Set web browser to:
Link

Got a question, comment, or a concern regarding this review?
Email them to:
pbury@familyfriendlygaming.com