Freebirds
SCORE: 68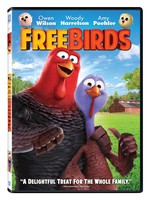 FreeBirds continues Hollywood preaching human beings are stupid, and animals are smart. Which is the biggest problem I have with this animated movie. Two turkeys steal a time machine to go back to the first Thanksgiving. Their goal in FreeBirds is simple - take turkey off the menu. They enlist the aid of colonial turkeys to fight off the humans.
Yeah I know the premise of FreeBirds is ridiculous. Woody Harrelson and Owen Wilson both do a fantastic job with their voice acting. So good of a job that in some ways FreeBirds seems believable. Yes I know everything in FreeBirds is pure fantasy. Turkeys talking to one another is an interesting concept. Mainly because they are considered to be one of the dumbest animals on the planet.
There is plenty of humor in FreeBirds. Turkeys and humans all have their moments of humor in FreeBirds. The time travel machine even gets a moment to make fun of one of the other characters. It is a short moment unfortunately. There are plenty of characters in FreeBirds that are injured in comical moments. Injuries do not last in FreeBirds though. Which is typical of the lessons Hollywood teaches.
FreeBirds has decent animations with some peril here and there. The turkeys are mainly in danger in FreeBirds. The humans are near the end. I also noticed FreeBirds can be considered racist against white people in a few of the scenes. I thought our culture was past that kind of behavior.
FreeBirds is a ninety-one minute romp that is a one shot experience. Our kids were not interested in watching it a second time. Which I found very interesting. They wanted to watch the Mr Bean movie over and over again this Christmas break. They saw FreeBirds one time, and were done with it. I recommend trying it as a rental first to see if your family enjoys it enough for a purchase.
- Paul
Graphics: 75%
Sound: 80%
Replay/Extras: 55%
Gameplay: 65%
Family Friendly Factor: 65%

System: DVD
Publisher: 20th Century Fox
Developer: Relativity Media
Rating: 'PG' - Parental Guidance Suggested
{Some Action/Peril and Rude Humor}

Want more info on this product, the company that made this product?
Set web browser to:
Link

Got a question, comment, or a concern regarding this review?
Email them to:
pbury@familyfriendlygaming.com