Forza Horizon 2
SCORE: 70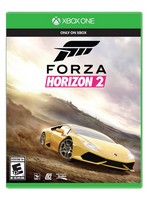 Forza Horizon 2 recently went on sale for forty dollars (before all the overtaxation), and Family Friendly Gaming purchased it for this review. This home console racing game is not worth sixty dollars. It is not even worth the forty dollars. Twenty-five dollars is a decent price for this game.
The storyline in Forza Horizon 2 is road trip. Seriously that is all we do in Forza Horizon 2. We go to a couple of different areas and race. The only difference is the cars we use. Some are fast and some are slow. Which brings up a flow issue in Forza Horizon 2. In Forza Horizon we moved into faster and faster cars. In Forza Horizon 2 we are in fast cars, then some slow, then off roading. Forza Horizon 2 is all over the map in terms of speeds and styles.
There are plenty of cars to purchase in Forza Horizon 2. Leveling up brings a spin that can give us money or another vehicle. We can't sell duplicate cars in Forza Horizon 2 which is a real bummer. What is the point of winning three of the same car? I can't make anything off it, so it is just a waste of time and a spin.
Skill points can earn us perks. This is things like 10% off purchases of vehicles we buy from the autoshow. The voice acting is very British. Which fits the racing in Europe. There are Bucket List challenges on certain vehicles. Many of those are very difficult.
Forza Horizon 2 is all over the board in terms of rewarding us. We can get trading paint for hitting another car. We can also get points for racing clean. So Forza Horizon 2 does not encourage one kind of racing over another. Going off roading can net some of the biggest chains.
Forza Horizon 2 is a small step backwards from the first game. If you can get it for twenty bucks you should get your moneys worth.
- Frank
Graphics: 70%
Sound: 70%
Replay/Extras: 85%
Gameplay: 60%
Family Friendly Factor: 65%

System: Xbox 360/Xbox One
Publisher: Microsoft Games
Developer: Playground Studios, Turn 10 Studios
Rating: 'E10+' - Everyone TEN and OLDER ONLY
{Mild Lyrics, Mild Suggestive Themes, Mild Violence}

Want more info on this product, the company that made this product?
Set web browser to:
Link

Got a question, comment, or a concern regarding this review?
Email them to:
pbury@familyfriendlygaming.com