Disney Fantasia Music Evolved
SCORE: 50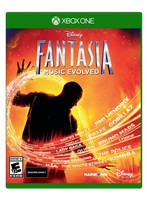 Disney Fantasia Music Evolved received one of those stealth releases late last year. Then it quickly received a price drop. Those two events back to back are a good sign there is something wrong with this Xbox One game. I could not believe Harmonix and Disney Interactive Studios could release a stinker. I was wrong.
Disney Fantasia Music Evolved on the Xbox One is the most boring Kinect games I have ever played. It is mainly upper body so the work out aspect is imbalanced. To make matters even worse we do many of the same moves over and over again. Every so often the game does not recognize the motions and does not award us with the points. That was really the most interesting thing in Disney Fantasia Music Evolved - when it would glitch on me. Isn't that a sad testament to this home console video game?
Graphically Disney Fantasia Music Evolved is a big disappointment. We spend way too much time in the dark. The objects we interact with are neon bright against the dark backgrounds. It hurt my head and gave me a migraine while playing. Do you realize I paid Disney and Harmonix to cause me pain? Will they compensate me for the damages their product caused? I think we all know the answer to that question.
There are just over thirty songs in Disney Fantasia Music Evolved. We can remix them in a variety of ways by picking different remixes of a variety of instruments. It is less interesting than it sounds. Some of the songs are okay, and others will offend families. There are adult only themes in some of the songs in Disney Fantasia Music Evolved.
I expected a lot more Fantasia in Disney Fantasia Music Evolved. That may be why Disney Fantasia Music Evolved has become such a flop. Maybe the stealth launch hurt this conducting video game. All I know for sure is I finally got around to playing Disney Fantasia Music Evolved and it was a huge disappointment. Not worth the thirty dollars I spent on it. Not even worth half that price.
- Yolanda
Graphics: 50%
Sound: 60%
Replay/Extras: 60%
Gameplay: 20%
Family Friendly Factor: 60%

System: Xbox 360/Xbox One(tested)
Publisher: Disney Interactive Studios
Developer: Harmonix
Rating: 'E10+' - Everyone TEN and OLDER ONLY
{Lyrics}

Want more info on this product, the company that made this product?
Set web browser to:
Link

Got a question, comment, or a concern regarding this review?
Email them to:
craftiemom@familyfriendlygaming.com