Coaster Works
SCORE: 68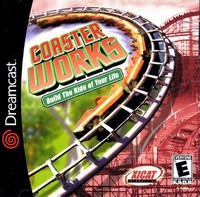 I found out about this home console video game online a few weeks ago. I know we have readers into retro games. I also know that roller coaster video games are pretty big in Family Friendly Gaming Nation. So I purchased Coaster Works on the Dreamcast for this review and possibly some video capture (in the near future).
Coaster Works has an amazing tutorial that teaches families how to play Coaster Works. Building a roller coaster is easy in Coaster Works thanks to the four development screens. The hard part is hitting the four stage requirements. They are Maximum Speed, Maximum G-Force, Thrill, and Safety Level.
There are not many parks to play in Coaster Works. Which is not as bad as the fact I could not get past the first one after many hours of play. I kept falling short on the maximum speed. I learned one important thing in Coaster Works. I could make hills that are too high. Then my cart in the test run would roll back to the start. What this ultimately means is casual gamers and families will get bored with Coaster Works on the Dreamcast.
The graphics in Coaster Works show their age. In fact I doubt it was impressive looking when it was first released. The music is wonderful in Coaster Works. Those special effect sounds will wake you up though. The difficulty is too high in my opinion.
All in all I found more positives in Coaster Works than negatives. The biggest negative does draw this game down though. It also takes a lot of VMU blocks to save a level in Coaster Works. I hope to see more games like this one.
- Paul
Graphics: 55%
Sound: 80%
Replay/Extras: 80%
Gameplay: 50%
Family Friendly Factor: 75%

System: Dreamcast
Publisher: Xicat Interactive
Developer: Bimboosoft
Rating: 'E' - Everyone SIX and OLDER ONLY

Want more info on this product, the company that made this product?
Set web browser to:
Link

Got a question, comment, or a concern regarding this review?
Email them to:
pbury@familyfriendlygaming.com