Bonk's Revenge
SCORE: 80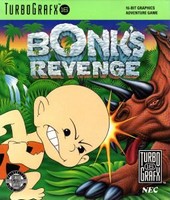 Long time readers know that I was never a Sega or Nintendo fanboy in the 16-bit era. I owned both of their machines. I also owned a Turbografx-16. For my money NEC had the best system and the best games in the 16-bit era. I was in the minority in that belief though. Bonk was the main character for the Turbografx-16. He did a wonderful job in his three games on this home console system.
Bonk's Revenge continued the series in a meaningful way. I do not feel it is as good or innovative as the first game. Red Company did get some things right though. I love the diversity of the levels, as well as the unique nature of many of the levels. Going up and down waterfalls is really cool. The ice caves are great, and more. The mini levels are pretty cool too.
Families will find large and long levels in Bonk's Revenge. The music and special effects are very similar, and so are the graphics. Although the graphics take a step backwards since they shrunk some. The jump flip forever does not work as well in Bonk's Revenge.
Bonk's Revenge is also a lot harder than the original home console game. More enemies, and more obstacles face players, as well as mini bosses.
- Paul
Graphics: 80%
Sound: 90%
Replay/Extras: 75%
Gameplay: 80%
Family Friendly Factor: 75%

System: Turbografx-16
Publisher: NEC
Developer: Red Company
Rating: 'NR' for Not Rated

Want more info on this product, the company that made this product?
Set web browser to:
Link

Got a question, comment, or a concern regarding this review?
Email them to:
pbury@familyfriendlygaming.com