Bonk's Adventure
SCORE: 85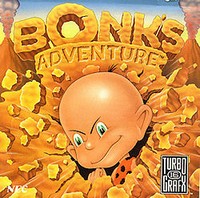 When we talk about retro systems there is one that is always at the top of my list - Turbografx-16 (technically the Turboduo). Bonk's Adventure was released on the Turbografx-16 and also plays on the Turboduo. I liked Bonk better than Mario, Sonic or any other mascot from the 16-bit era. There is just something about this head butting cave man.
There is action adventure violence in Bonk's Adventure. Bonk uses his head literally to knock the enemies off the screen. They vanish if they land on screen in a puff. Bonk's Adventure is bright, colorful, and innovative in quite a few ways. We eat meat to get more powerful and freeze the enemies. Eat more meat and we become invincible. Just don't get hit before becoming invincible, because it wears off. The music and special effect sounds are astounding in Bonk's Adventure.
The level design is also notable in Bonk's Adventure. We do things like go inside an giant dinosaur. This is one of the coolest levels in any video game. Don't worry it is not gross. Boss battles are fun, cool, and can be challenging. That is until you figure out how to do the Bonk head butt summersault. It is like gliding with Batman only more impressive.
All these years later I still appreciate Bonk's Adventure on the Turbografx-16. Bonk needs a new game.
- Paul
Graphics: 85%
Sound: 95%
Replay/Extras: 80%
Gameplay: 90%
Family Friendly Factor: 75%

System: Turbografx-16
Publisher: NEC
Developer: Atlus, Red
Rating: 'NR' - Not Rated

Want more info on this product, the company that made this product?
Set web browser to:
Link

Got a question, comment, or a concern regarding this review?
Email them to:
pbury@familyfriendlygaming.com