A Kappa's Trail
SCORE: 66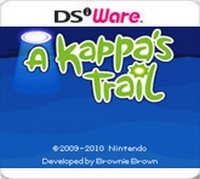 Just before Nintendo closed Club Nintendo I used some of my remaining points to download A Kappa's Trail. It didn't cost me much except the time it took to fill out those surveys for Nintendo. A Kappa's Trail is a downloadable only Nintendo DSi game that is also available on the Nintendo 3DS. No 3D effects though.
A Kappa's Trail is a puzzle game where the players draw where they want the character to go on the screen. And you thought Kirby and the Rainbow Curse was innovative. Nope. A Kappa's Trail did it five years ago. There has to be a catch right? Oh yes. The tiles your character walks on fall away. You can only go over a certain space once.
A Kappa's Trail started easy. After a few levels it got harder. I found myself hopelessly stuck too many times in A Kappa's Trail. Which ultimately led to frustration, stress, and real world anger. What really upset me is Nintendo normally makes money off of products that cause real world problems. I am out the time, and cost of doing this review, others are out their money.
A Kappa's Trail looks okay, and it sounds okay. I got tired of watching my little guy fall to his death. The game play in A Kappa's Trail feels really limited and it can be difficult to draw perfect lines. I also noticed at times A Kappa's Trail was mean to me. I avoided a certain block, but it dropped off the map anyway.
The positive side to A Kappa's Trail is it will make you think. Family members will plot out where they want to their character to go. Planning how to go from start to the number one, and then number two, and so on can take some real thought. Especially when you have to keep an open path to the exit.
As a downloadable only video game A Kappa's Trail is very forgettable, disposable, and expendable. I recommend our readers save their money for physical copies of video games that are more valuable, and dependable.
- Yolanda
Graphics: 60%
Sound: 70%
Replay/Extras: 70%
Gameplay: 50%
Family Friendly Factor: 80%

System: Nintendo DSi
Publisher: Nintendo
Developer: Brownie Brown
Rating: 'E' - Everyone SIX and OLDER ONLY
{Comic Mischief}

Want more info on this product, the company that made this product?
Set web browser to:
Link

Got a question, comment, or a concern regarding this review?
Email them to:
craftiemom@familyfriendlygaming.com