2048e
SCORE: 85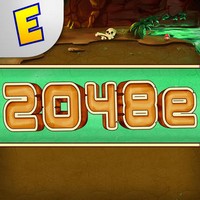 So many companies have ruined the image of free apps thanks to their repeat pay to nature. 2048e is an actual true free app. Families do not need to pay anything to play 2048e. It does come up with an advertisement every couple of games. Nothing too intrusive. I wish 2048e had an option to pay one time to make the advertisement go away.
2048e from Ensenasoft may not be the first 2048 game released in the market place. It is a very solid version of 2048 though. I really like the music in 2048e. I also like the visual look in 2048e. The numbers have great colors in 2048e. The merging of the numbers is very smooth in 2048e.
Another cool thing about 2048e is how the numbers appear. I could almost predict after a few games where the next number would appear from. The flow of where the numbers appear in 2048e are fantastic.
2048e is a bit bare bones compared to other versions of 2048. The Nintendo 3DS version of 2048 has more modes. Ultimately families can get 2048e for free, and pay nothing to play it. I would hope that families would want to financially support the developer behind this game to show their thankfulness.
Families have a couple of options available to them in 2048e. They can turn the music off if they do not like it. Or as a way to save battery power on their iPhones and iPad devices. I normally play apps when I am watching something on television, so I spent more time with the music off than on.
2048e is one of those quick, easy apps that families can enjoy here and there. I like the look, and I like the feel. It would have been great if Ensenasoft had brought something new and innovative to this number matching game. I am still trying to understand what the 'e' stands for in 2048e. 2048e is the kind of a free app families can get behind and support.
- Mark
Graphics: 80%
Sound: 90%
Replay/Extras: 80%
Gameplay: 90%
Family Friendly Factor: 85%

System: iPad/iPhone
Publisher: Ensenasoft
Developer: Ensenasoft
Rating: '4+' - Everyone FOUR and OLDER ONLY

Want more info on this product, the company that made this product?
Set web browser to:
Link

Got a question, comment, or a concern regarding this review?
Email them to:
GameReviews@familyfriendlygaming.com