Sea Battle
SCORE: 76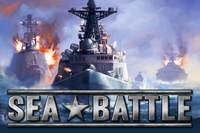 Video game releases on the Nintendo DSi are becoming fewer and fewer. Which is why anything new garners the attention of Family Friendly Gaming Nation. Sea Battle from Teyon Games and WaiS Co is one such Nintendo DSi hand held video game.
I know plenty of families that will hear the name Sea Battle, and immediately respond in a negative fashion. Before you dismiss this game, please remember to not judge a book by its cover. Unless it is one of my books, and you have a positive reaction. :)
Sea Battle is essentially the board game Battleship. Only it is done better, fleshed out, and there are no pieces to loose. Sea Battle is a download only title so you will not be able to go to your local store and purchase it. The good news is Sea Battle is only 200 Nintendo DSi points. In other words two dollars.
Families can play Sea Battle in old school mode, and modern mode. Modern mode adds land, mines (which takes a turn if you hit one), lets you put your ships at angles, adds a plane and more. Sea Battle also contains missions which can be difficult to complete.
Sea Battle also allows families to play head to head. Expect some of the same real world fights that Battleship produces. The one thing Sea Battle stops people from doing is cheating. You can not move your ship in the middle of a game. Or claim they launched a missile at a different spot. - Paul
Graphics: 75%
Sound: 80%
Replay/Extras: 80%
Gameplay: 70%
Family Friendly Factor: 75%

System: Nintendo DSi
Publisher: Teyon Games
Developer: WaiS Co
Rating: 'E' - Everyone
{Mild Fantasy Violence}
Company Provided Product

Want more info on this product, or the company that made this product?
Set web browser to:
Link



Got a question, comment, or a concern regarding this review?
Email them to:
pbury@familyfriendlygaming.com