Kinect Sports Rivals
SCORE: 91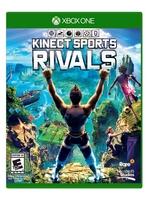 Kinect Sports Rivals is the biggest next gen video game release of the year. This is the game that shows what the Xbox One, and the new Kinect sensor can do. Kinect Sports Rivals impresses right out of the gate. It scans your face and provided a video game representation. And its scary how close it gets.

Families are treated to Wake Racing, Climbing, Target Shooting, Soccer, Bowling, and Tennis in Kinect Sports Rivals. There are three clans in Kinect Sports Rivals vying for your attention. They are Wolf Clan, Eagle Legion, and Viper Network. When you graduate from Rookie to Pro you get to pick a clan/team to join.
Let us break down the sports in Kinect Sports Rivals. Wake Racing is a lot of fun with tall waves, fun tricks, and it controls great. Climbing is more difficult, and can be frustrating. Closing my hands was not always recognized by the sensor. Which was a real downer in a close race. Also do not let your controller turn off while playing Kinect Sports Rivals - the game will lose sight of you.
Target Shooting works amazingly well. Especially since we do not need to pull the trigger. Line up the sights with the target and it shoots automatically. Soccer is the worst game in Kinect Sports Rivals. Kick it from player to player and finally take a shot at the end. I avoided soccer like the plague in this home console video game.
Bowling is one of the better games in Kinect Sports Rivals. It controls great, looks great, has amazing special effects. I can not say enough good things about it. Tennis is pretty good. It would be the second best or third best game in Kinect Sports Rivals. Controls are almost always wonderful, and it is great exercise.
That is a nice segway to the next topic I wanted to bring up concerning Kinect Sports Rivals. Expect to burn some calories thanks to this Rare developed video game. I found myself sweating after extended play. I would upload some pics to the Hub, and see how I ranked. Family members can each have their own character and upload them to the Hub.
The biggest surprise in Kinect Sports Rivals is the coach character. He is absolutely hilarious. We are allowed to laugh at him. If he was a drill sergeant in the military - laughing at him would be a bad idea. I am a disabled war veteran - you can trust me on that. So it was nice to be able to laugh at coach. I understood where he was coming from, and why he said the things he did.
There is some mild violence here and there in Kinect Sports Rivals. Shooting targets does not qualify as violence in my book. But if it does in yours then please know it is in this Xbox One video game. You can also throw people off the rock walls by grabbing them instead of the climbing stones. Crashing can be a part of Wake Race, but you turn into pixels and reform back on the track.

All in all I am very impressed with Kinect Sports Rivals. I enjoyed playing most of the sports in Kinect Sports Rivals. I loved interacting with the teams, and coach. Families looking for a next gen game that will help them improve their lives can look right at Kinect Sports Rivals. NOW MOVE OUT!
- Paul
Graphics: 90%
Sound: 92%
Replay/Extras: 90%
Gameplay: 95%
Family Friendly Factor: 90%

System: Xbox One
Publisher: Microsoft Game Studios
Developer: Rare
Rating: 'E10+' for Everyone 10+
{Mild Violence}
Company provided product



Want more info on this product, or the company that made this product?
Set web browser to:
Link
Got a question, comment, or a concern regarding this review?
Email them to:
pbury@familyfriendlygaming.com