World Series Baseball 2K2
SCORE: 89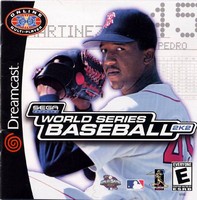 It has been some time since we have done a review of a Dreamcast game. With the economy continuing to sag we know there are even more families exploring retro gaming. I was able to find World Series Baseball 2K2 for one dollar, and four dollars to ship it. That is an awesome deal, and I know I got my moneys worth. This baseball game brings back all kinds of nostalgia. It also shows me what has improved over the last ten plus years.
World Series Baseball 2K2 looks amazing. Great looking huge players, wonderful parks, awesome animations, and more. The players look sort of like their real world counter parts. Sega obviously worked diligently on this aspect. The graphics still look decent today.
Fielding is one area that could use improvement in my opinion. It is difficult to field. I also had some issues with batting. I could pitch with no problems at all. Although the pitch selection is cumbersome at best. World Series Baseball 2K2 is playable but it could have been a lot better in the controls.
The announcer has plenty of neat comments to make. He is obviously just throwing out something here and there. But it was good for this era in video game history. I hope Sega brings this franchise back someday. Online was even an option in this Dreamcast game.
- Paul
Graphics: 90%
Sound: 87%
Replay/Extras: 100%
Gameplay: 80%
Family Friendly Factor: 87%

System: Dreamcast
Publisher: Sega
Rating: 'E' for Everyone
Want more info on this product, the company that made this product?
Set web browser to:
Link


Got a question, comment, or a concern regarding this review?
Email them to:
pbury@familyfriendlygaming.com