Sonic Spinball
SCORE: 85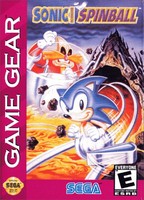 Sega tried something back in the day that gamers are still discussing - Sonic Spinball. I had not played this Sonic the Hedgehog based pinball game in some years. I remember it was not well received in the industry. But I do not let that impact my opinion. Sonic Spinball is a fun game to play on the Sega Genesis. Especially if you are willing to take the time to try and learn how to play.
Sonic Spinball is a little on the darker side at the beginning. The animations are decent for the era. It is neat to see Sonic run around in a few of the small areas. The bouncing off objects, and knocking Sonic with the flippers all flows very smoothly. I appreciate how difficult it can be to die in Sonic Spinball. Sonic may fall between the flippers. At this point he is standing on a column. A robotic monster tries to come up and eat Sonic. He can jump up and get back to the flippers if you are fast enough. I did this over and over again.
We have to hit switches in Sonic Spinball to open up new areas. Then we are on different boards (in essence). Classic Sonic the Hedgehog music is in Sonic Spinball - which is a very good thing. Pinball action can get fast, but I never felt overwhelmed in Sonic Spinball on the Sega Genesis.
The best lesson in Sonic Spinball is the hand eye coordination. I found myself timing where I wanted to launch the Sonic ball. I would miss a few times and then hit it right on. I repeated that on the other side to open up the path. Then I had to learn a new table arrangement.
Sonic Spinball is great fun for all ages of the family. This home console game plays nicely, and offers a lot of replay value. Being able to avoid death when missing the flippers at the bottom is a wonderful innovation to the video game pinball franchise.
I really hope to see a sequel to Sonic Spinball in the coming years. I would love to see Sega flesh out this franchise. Maybe they should contact Zen Studios about a remake or a sequel. Zen Studios is known for their Marvel Pinball video games.
- Paul
Graphics: 80%
Sound: 85%
Replay/Extras: 90%
Gameplay: 90%
Family Friendly Factor: 80%

System: Genesis
Publisher: Sega
Rating: 'E' - Everyone
Want more info on this product, the company that made this product?
Set web browser to:
Link


Got a question, comment, or a concern regarding this review?
Email them to:
pbury@familyfriendlygaming.com