Sonic Dash
SCORE: 60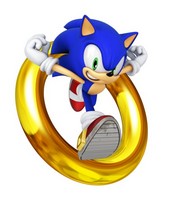 I was extremely stoked to hear about Sonic Dash on the iPhone/iPod Touch and iPad platforms. A Temple Run kind of game with Sonic the Hedgehog. It has to be awesome right? Sadly it is one of the worst examples of a cash grab by a company in some time. I paid $1.99 to purchase this hand held game. A dollar more than I normally pay. Sonic Dash is constantly trying to get you to pay them more money.
Sonic Dash gives you hints. Those hints are: "pay us even more money." I expect this kind of treatment from a free app. Not from one I plopped down two dollars for. It takes weeks to earn enough red star coins to get enough money to purchase any character other than Sonic. Right now there are only four playable characters. No Shadow for all of those who like to play as him. We get Sonic, Tails, Knuckles and Amy. And Sonic is only playable at first.
The biggest problem aside from the constant: "give us more money," is the glitches. Sonic Dash locks up on a routine basis, and will not work on older devices. There are visual and graphical glitches as well - which lead to death. If that were not bad enough Sonic Dash is a huge battery drain.
For an endless runner Sonic Dash has too many annoying spots that are nearly impossible to get by. We start in the middle of the track and can swipe to go to the right side, and swipe to go to the left side. Now going from the far right to far left requires two swipes. The same applies for going the opposite direction. This problem lead to more deaths due to poor level design.
Many of the missions in Sonic Dash get difficult to complete, and a few are not very clear. Jumping over a large chasm and hitting a fish does not always work. Then you get "hints" from Sonic Dash. These "hints" are buy this or buy that. These happen after every single in game death. The balance in Sonic Dash is horrible.
Sonic Dash may be one of the worst endless runner games I have ever played. It is one of the most expensive, and annoying for sure. Which is a shame because Sonic Dash has such potential. I hope Sega turns this game around and quickly. Before their name becomes mud with app gamers for the rest of their history.
- Paul
UPDATE: There is now a free app version of Sonic Dash available.
Graphics: 72%
Sound: 79%
Replay/Extras: 50%
Gameplay: 50%
Family Friendly Factor: 50%

System: iPad/iPod Touch/iPhone(tested)
Publisher: Sega
Rating: '4+' for 4+
Want more info on this product, the company that made this product?
Set web browser to:
Link


Got a question, comment, or a concern regarding this review?
Email them to:
pbury@familyfriendlygaming.com