Orion's Odyssey
SCORE: 87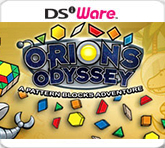 Orion's Odyssey is the sequel to Hands On Tangrams. This downloadable title on the Nintendo Dsi has a clever little story to it. This robot is on a space ship by himself. He wants someone to talk to. The other machines do not respond. He finds Earth and decided to talk to the various creatures on the planet.
The robot in Orion's Odyssey learns he has a unique ability – he can create anything. Players need to fill the object to make it appear. This is where Tangrams come into play. Going through all of the dialogue is one of the things that keeps the Tangrams fresh in Orion's Odyssey. Plus there is some humor dispersed within.
There are ten themed areas in Orion's Odyssey. Each of these areas contains ten levels or objects to build. Bringing the overall game to one hundred levels. Families will find they acquire quite a bit of content for a low price thanks to this game being downloadable.
The graphics of the characters is little on the small side. This is a Nintendo DSi title after all. I love the helpfulness of the robot. He really wants to solve the different problems on the planet earth. I know if he came to me, over-taxation would be first on my list of problems I would like him to solve.
Families will find a nice learning curve in Orion's Odyssey. This hand held game starts easy enough, but it gets more difficult as the family members progress. It is fun figuring out the right combination of objects in the right positions to complete the puzzle. I really hope to see this franchise continue to grow and develop as time progresses.
- Paul
Graphics: 80%
Sound: 85%
Replay/Extras: 90%
Gameplay: 90%
Family Friendly Factor: 90%

System: Nintendo DSi
Publisher: Enjoy Gaming
Rating: 'E' - Everyone
Company Provided Product

Want more info on this product, or the company that made this product?
Set web browser to:
Link
Got a question, comment, or a concern regarding this review?
Email them to:
pbury@familyfriendlygaming.com