Nyko Kinect Zoom
SCORE: 60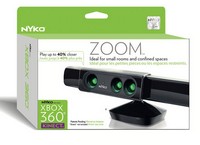 Take a little trip in time with me to E3 in the year of our Lord 2011. One of the stand out items was the Nyko Kinect Zoom. We realized early this year that a reviewable copy had not made it. By the time we checked they were all gone. So we put it on our purchase request listing, and picked one up.
I was personally excited to finally get to use the Nyko Kinect Zoom outside of E3. My excitement quickly turned to disappointment. The Nyko Kinect Zoom does not work as advertised. It is glitchy, flawed, and fails around half of the time.
We tried different games, re-applying the device, going through tech support, and more. The general consensus is the Nyko Kinect Zoom product is falsely advertised. Maybe that is why we did not receive a reviewable copy. We can not be bought off like another well known gaming site. We also do our due diligence in reviews. We use products for many, many hours to determine how durable they are.
I personally had high hopes for the Nyko Kinect Zoom. I planned on using it in a narrow room on the Xbox 360 Kinect all the time. As it stands now the Nyko Kinect Zoom has been boxed up and is going into the vault.
The look of this little add on is its one saving grace. The Nyko Kinect Zoom looks really good. It looks like it belongs on the Kinect sensor. The Nyko label is to be expected since it is one of their products.
The biggest issue we had with the Nyko Kinect Zoom is it would lose us, and then re-acquire us. Our on screen hand (or icon) would not always move with us, flash in and out, and generally be a complete pain. Thing is this did not happen with every game. Some games worked okay with the Nyko Kinect Zoom, and many others were total flops.
It is never fun to have to take the device off for certain games, especially when there are deadlines for reviews of those products. Ultimately we lost our trust in the Nyko Kinect Zoom. It proved to be very unreliable. It may have earned our Bronze E3 2011 medal, but upon careful inspection it has turned out to be a complete and total flop. Nyko Kinect Zoom fails miserably. I still like the idea behind the product, just not the implementation of the Nyko Kinect Zoom.
- Paul
Graphics: 80%
Sound: 60%
Replay/Extras: 60%
Gameplay: 40%
Family Friendly Factor: 60%

System: Xbox 360
Publisher: Nyko
Rating: 'NR' - Not Rated
Want more info on this product, the company that made this product?
Set web browser to:
Link


Got a question, comment, or a concern regarding this review?
Email them to:
pbury@familyfriendlygaming.com