Gain Ground
SCORE: 64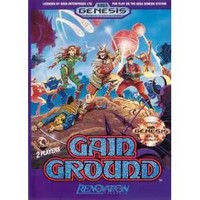 Gain Ground is one of those games I always wanted to play on the Genesis back in the day. It was billed as a Gauntlet like game on Sega's 16-bit machine. I have finally gotten back to Gain Ground thanks to our Retro Review Initiative. Too much water has gone under the bridge. Why? Because Gain Ground does not look so good anymore. The top down view point is decent, as is the different objects.
The biggest problem with Gain Ground is the short length of the weapons. We have to get pretty close to the enemies to shoot them. They can shoot back the same distance. So the main game play element in Gain Ground is to get within range, and have the enemies shoot at you. Then we move around their shot, and hit them. This is more difficult than it sounds.
Thankfully violence can be bypassed in Gain Ground. If we can move around the gauntlet of attacks we can get to the exit. I like this feature, even if it is usually unpractical to avoid the plethora of enemies and their attacks.
Like so many games from this era, Gain Ground has issues with enticement to lust and violence. The diversity to the levels is nice, and the characters are bigger in Gain Ground than in the Gauntlet games from that time period. Gain Ground has problems, but it was a different game for Sega.
- Paul
Graphics: 60%
Sound: 74%
Replay/Extras: 73%
Gameplay: 54%
Family Friendly Factor: 59%

System: Genesis
Publisher: Sega
Rating: 'E' for Everyone
{Mild Fantasy Violence}
Want more info on this product, the company that made this product?
Set web browser to:
Link


Got a question, comment, or a concern regarding this review?
Email them to:
pbury@familyfriendlygaming.com