Forza Motorsport 5
SCORE: 70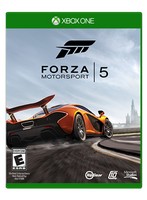 Forza Motorsport 5 is a huge game. Thankfully it let us start to play while it installed on our Xbox One. In fact we raced completely through the first championship circuit before needing to let it install some more. This feature of being able to play while it is installing is actually pretty cool, and coming in handy.

Everyone here at Family Friendly Gaming was blown away by Forza Motorsport 5 as first started to play it. Some even mentioned giving it a perfect 100 score. It looks so nice, plays so good, and has a healthy amount of cars. The more we played Forza Motorsport 5 the more we noticed a few kinks here and there.

Forza Motorsport 5 tells families that they are not racing against the computer. Instead they are racing against Driveatars. Those are other players without the other player actually being there. In other words Forza Motorsport 5 learns how you race. It then sends your race representation against other human players. Your tendencies are cataloged and put out there. for other players to compete against. This is pretty cool.

There are voices that will explain races, tracks, and other game related content while screens are loading. You have no idea how often I wanted to skip that. I turned off notification messages once I learned how. The cars sound great, and the crashes sound (and look) realistic. You can play with damage or with it off. The music in the background is nice.

The biggest problem with Forza Motorsport 5 is the fourteen track locations. They are fantastic. The problem is there are only fourteen of them. Meaning I found myself racing the same tracks over and over again in different circuits, series, and cars. Sequels need to double that amount in my opinion.

Forza Motorsport 5 is approachable by all ages. The default setting is the auto assist. That means the car will automatically slow down for curves and corners so you do not go way out in the field. That does not help you when it comes to making contact with other cars. You can have your very own demolition derby out there if you so choose.

That reminds me of an important point. I feel sorry for anyone who races against my Driveatar. If it races like I do, then it races like someone playing football. Meaning its a contact sport. I routinely spin other cars out. They wind up facing the wrong direction and I get a good, easy, and safe pass.

Forza Motorsport 5 compliments players when they race clean. The game will let you know when you did a good turn, and a good pass. You can also get perfect. If you make a mistake in Forza Motorsport 5, you can press the 'Y' button. This rewinds the race back to a specific point. This does cost you in reward money, but it is almost always worth it.
Since the Xbox One is all about every family member having their own profile we ran into a little issue. Our special needs son needed help when he got himself stuck on the first race. The game would not let us give him local assistance. Local split screen multiplayer is fun for two family members.
The end result is Forza Motorsport 5 is a fun launch title on the Xbox One. I appreciate all of the innovations, and additions. I miss the open world from Forza Horizon. I miss all the different tracks from previous Forza games. I expect the next Forza game will completely knock it out of the park.
- Paul

{UPDATE 12/31/2015: Broadband Internet is required to play this game. It will now allow offline game play, eating up Internet usage}
Graphics: 90%
Sound: 80%
Replay/Extras: 60%
Gameplay: 60%
Family Friendly Factor: 60%

System: Xbox One
Publisher: Microsoft Game Studios
Rating: 'E' – Everyone
{Comic Mischief}
Company provided product
Want more info on this product, or the company that made this product?
Set web browser to:
Link
Got a question, comment, or a concern regarding this review?
Email them to:
pbury@familyfriendlygaming.com