Fifa 14
SCORE: 76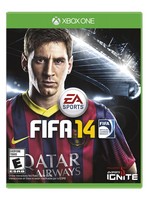 The talk of the video game industry is the launches of the Playstation 4 and Xbox One. One of the family friendly games is Fifa 14. This next generation soccer game is very close to the Playstation 3, Xbox 360, and Personal Computer versions.
EA sports is all about their new Ignite engine. Fifa 14 looks a bit better on the Xbox One, however we still see small players until someone scores and there is a celebration, or a corner kick. When will we get a first person perspective in a sports game?

Fifa 14 on the Xbox One has a known bug. If there are two profiles turned on, and two controllers turned on, then the game crashes. So when you are loading Fifa 14, only have one controller turned on. A patch is planned to fix this issue.

Fifa 14 feels a bit better in the controls. It is a slight improvement. Just not enough to purchase the game again if you already own it on the Xbox 360, PS3, or PC. Fifa 14 contains plenty of customization for your skill set, and the skill set of the computer.
If you purchase Fifa 14 then you must have a good Internet connection. This sports game is heavy on the online features. An Origin account is needed to connect to the EA servers. It seems to me that the offline features and options are being lost and replaced with online ones.
Families with an Xbox One looking for a soccer game will look at Fifa 14. Right now EA Sports has a monopoly on the soccer games on the next gen. I expect that will change at a future date. I also anticipate EA Sports will work diligently to improve this franchise for next year.
- Frank
Graphics: 78%
Sound: 70%
Replay/Extras: 79%
Gameplay: 82%
Family Friendly Factor: 70%

System: Playstation 4/Xbox One (tested)
Publisher: EA Sports
Rating: 'E' – Everyone
Company provided product
Want more info on this product, or the company that made this product?
Set web browser to:
Link
Got a question, comment, or a concern regarding this review?
Email them to:
GameReviews@familyfriendlygaming.com