Farmtopia
SCORE: 71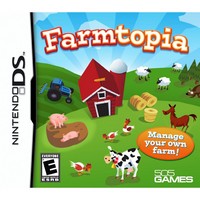 Time management games are a nice little diversion. I saw Farmtopia on clearance at an extremely low price. I decided to pick up this Nintendo DS game and see if it was a gem for our wonderful readers. Or could I help millions save some money? Please continue to read this review for that answer.
The graphics in Farmtopia are really small. Which becomes a problem in the game play. How? Why? It becomes difficult to tap these tiny little objects. Since tapping objects is the main thing I did in this game. Many of the objects in Farmtopia look the same too. There is very little in Farmtopia graphically that impressed me.
The music in Farmtopia is okay. The special effect sounds are also okay. They are not offensive, and they are not overly impressive. The instructions in Farmtopia are okay. Most of it made sense to me. There were a few aspects of the instructions that did not make much sense. I had to try a few things to figure out what to do to move forward.
I found little to no reason to play Farmtopia. The game play in Farmtopia is extremely repetitive. It does not take long to get boring. At least I found it boring. Especially with the bugs in this hand held game. There are not many animals to care for, and not much diversity in this game. I recommend our readers pass on Farmtopia on the Nintendo DS.
Remember I mentioned trying to tap those small objects? This is how we put seed out for the animals. This is also how we pick up things like the eggs. I kept trying to tap the eggs and wound up laying out more grass. This would use up my resources. I got frustrated because of the problems this caused. This also removed any fun for me.
Farmtopia teaches families to take care of animals. It also teaches some basic economics. We send shipments of products to town and money is sent back. Farmtopia also teaches us to take care of our animals. I like the lesson in Farmtopia of keeping our animals safe from predators. There are all kinds of dangerous animals out there who do not care about our profit, livelihood, or our own survival. Humans are definitely more important than animals.
- Yolanda
Graphics: 70%
Sound: 74%
Replay/Extras: 74%
Gameplay: 62%
Family Friendly Factor: 76%

System: Nintendo DS
Publisher: 505 Games
Rating: 'E' for Everyone
Want more info on this product, the company that made this product?
Set web browser to:
Link


Got a question, comment, or a concern regarding this review?
Email them to:
craftiemom@familyfriendlygaming.com