Dr Robotniks Mean Bean Machine
SCORE: 88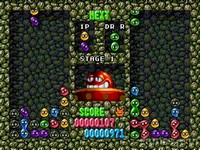 I was rummaging through Genesis cases looking for something to cover in this issue. I came across Dr Robotnik's Mean Bean Machine. I knew this was the perfect puzzle game for this issue. This retro game came with plenty of concepts used in many puzzle games from our current era in time. We take on a robot in a one on one puzzle battle. Getting matches and combinations sends blobs over to the opponent.
Dr Robotnik's Mean Bean Machine has two orbs that are connected. They can be the same color, or they can be different colors. The goal of this Genesis game is to get four or more of the same color linked together. This can be done in a straight line (vertical or horizontal), this can be a block shape, and even a 'L' shape. Once they are together they go away and whatever is on top of them falls down.
Getting rid of the orbs the other player (human or computer) sends over is one of the main goals in Dr Robotnik's Mean Bean Machine. Getting matches that touches these orbs is the key to their removal. It is a lot of fun to play Dr Robotnik's Mean Bean Machine. Be careful because it can get addicting.
The biggest issue with Dr Robotnik's Mean Bean Machine is the difficulty. This is one difficult puzzle game. I had trouble on the second robot I had to battle. The computer is insanely good and insanely fast at getting matches.
- Paul
Graphics: 90%
Sound: 91%
Replay/Extras: 90%
Gameplay: 82%
Family Friendly Factor: 87%

System: Genesis
Publisher: Sega
Rating: 'E' for Everyone
Want more info on this product, the company that made this product?
Set web browser to:
Link


Got a question, comment, or a concern regarding this review?
Email them to:
pbury@familyfriendlygaming.com