Crazy Construction
SCORE: 88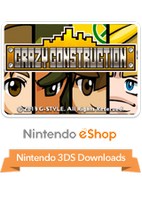 Sometimes the simplest little ideas are some of the best ones. Crazy Construction on the Nintendo DSi (also playable on the Nintendo 3DS) is a prime example of this. We stack objects up as high as we can. This is turned into a building. The more objects we get into the space the better the building is.

You might be wondering how Crazy Construction is such a good idea. The key to this downloadable game is the objects. We use cars, statues, boxes, cones, and more. Rarely do these objects have flat edges. So we routinely make some rather unstable platforms. Make a mistake and things fall off one of the edges.

I appreciate how realistic looking many of the objects are in Crazy Construction. The builders are cartoon looking characters. A few of them could have dressed in a more modest fashion. We do not spend much time looking at them though. As the levels progress we run into hazards like lightning clouds that will instantly drop an object without any rotation from us.

Crazy Construction sounds great. The music and special effect sounds in this hand held game are absolutely awesome. They reinforce the fun nature of Crazy Construction. I found myself thinking while playing Crazy Construction, but the overall experience was a fun one. I even held my breath hoping the objects would settle down after placing that last one.
If you are having problems playing Crazy Construction let me give you a bit of advice. You can build straight up to the top to complete a level. I did this when one side was lower and very unstable. I decided to cut my losses and get something to the top of the screen - which is what ends the level.

I love the concept behind Crazy Construction. The creativity involved in this game, as well as the many variations to how a level can play out make it a downloadable winner. Crazy Construction is definitely worth the price of admission. I hope to see more games like this in the near future.
- Paul
Graphics: 84%
Sound: 90%
Replay/Extras: 89%
Gameplay: 91%
Family Friendly Factor: 86%

System: Nintendo DSi
Publisher: G-Style
Rating: 'E' - Everyone
Company provided this product
Want more info on this product, or the company that made this product?
Set web browser to:
Link

Got a question, comment, or a concern regarding this review?
Email them to:
pbury@familyfriendlygaming.com