Columns
SCORE: 93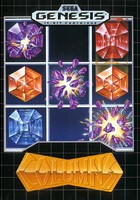 I have wanted to review Columns for many years. I feel so blessed to be able to review this Genesis game at this point in time. Columns is one of the first puzzle games I played after Tetris. At that time everything was compared to Tetris. Columns improved upon the drop down blocks in a number of ways that were innovative at the time. First and foremost is the ability to match blocks diagonally. This was huge back in the day. And something that sticks with me to this day.
The gems in Columns are huge, especially when we realize the era this home console video game came from. I am still amazed they were able to get such large graphics on this little cartridge. The bright colors really warm the hearts of the players who enjoy Columns.
The music in Columns kept me awake. I was able to use it to focus on the task at hand. What was that task? Matching gems of the same colors. Swapping the gems around as it plummeted to the bottom. The concept of having three different gems in the same block was also one that took some getting used to. I had not played Columns in many years. Once I adapted I was having a good time.
Columns is one of the grandparents of modern day puzzle games. Most gamers know all about Tetris, but not all modern gamers know about Columns. It is my hope that this review will help correct that. This is a Genesis game that does not need to fade to black. It needs to be recognized.
Columns was kind to players in terms of difficulty. Players are given three choices when playing Columns. Start at the beginning, go to level five where it had a medium difficulty, or go to level ten where it gets really hard. A player starting at the beginning or even level five can work their way up to level ten.
All I can say about Columns is it will challenge even the best gamer. The concepts found in this game require a variety of shifting strategies. The whole diagonal thing shook me up because I had forgotten it. I had been only working on horizontal and vertical. I shifted my thinking to match Columns.
- Paul
Graphics: 90%
Sound: 91%
Replay/Extras: 98%
Gameplay: 87%
Family Friendly Factor: 99%

System: Genesis
Publisher: Sega
Rating: 'NR' -Not Rated
Want more info on this product, the company that made this product?
Set web browser to:
Link


Got a question, comment, or a concern regarding this review?
Email them to:
pbury@familyfriendlygaming.com