Wario Land 4
SCORE: 70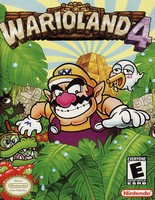 I have never been a fan of Wario. Mainly because he is self absorbed, selfish, and greedy. Wario Land 4 is a GBA that Nintendo has brought over to the Nintendo 3DS. Early adopters of the Nintendo 3DS paid more money than people buying it a few months later. Nintendo felt bad and gave us some free old games. Wario Land 4 is one of those games. Thankfully it is one of the few GBA games we had not already covered at FFG.
Wario is on a quest to get treasure in Wario Land 4. This is my first time actually playing a Wario Land game (to the best of my recollection). There are some strange things in this game. I am not sure if it is in all the Wario Land games or not. Players complete a level, step on a frog statue, and then have so much time to get back to the start of the level. I do not like that concept in any way, shape, or form. I already beat the level, and I have to back track it? Words like frustrating and annoying come to mind.
Graphically Wario Land 4 does not do a lot for me. There are some neat cut scenes that look good on the little hand held. There are also numerous redundancies in Wario Land 4. Players can generally avoid violence in the levels if they try hard enough. That is not so with the bosses. There is only one solution to beat each boss.
Wario Land 4 does not give the player many hints on what needs to be done. I guess modern games have spoiled me. Wario Land 4 expects the player to figure it out for themselves. Do so, or it is game over. Four parts of some item need to be found in each level to open the door to the boss. If you don't get them the first time, then you can replay the level to try and find the missing piece or pieces. We find ourselves right back at irritating and annoying.
Wario Land 4 is a game that I am recommending families bypass. I am thankful that I played it for this review. Wario teaches kids to be selfish, self absorbed, and greedy. These are lessons that can be left out of all of our minds.
- Paul
Graphics: 71%
Sound: 78%
Replay/Extras: 73%
Gameplay: 60%
Family Friendly Factor: 69%

System: GBA/3DS
Publisher: Nintendo
Rating: 'E' for Everyone
{Comic Mischief}
Want more info on this product, the company that made this product?
Set web browser to:
Link


Got a question, comment, or a concern regarding this review?
Email them to:
pbury@familyfriendlygaming.com