Sonic the Hedgehog
SCORE: 90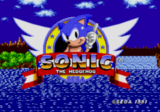 We are going really old school with this Genesis and Gameboy Advance review of Sonic the Hedgehog. There is something so magical about the 16-bit era. Sega did some wonderful things with Sonic the Hedgehog. The most important is the violence. There are robot creatures in the levels of Sonic the Hedgehog. Sonic hits them and frees little woodland creatures. So in essence no character is actually being harmed. Dr Robotnik gets some burns in his machines when Sonic hits them enough times. This is also the age of gaming when players had to play the game from start to finish. Boy have we gotten spoiled since that era. I would not play a recent release if it did not let me save. Sometimes I want to play just a level of a game and move on. So I had to shift my thinking while playing Sonic the Hedgehog.
The visuals were great for its day. All kinds of things animate like the flowers, and trees. This was a big step in game design and development from that era as well. Most games from this time kept the background pretty static. So it is nice to reflect fond memories of how Sega did things back in the day.
The music in Sonic the Hedgehog has become one of the classics. I could see a symphony playing the music in this game. It is one of the few symphony's I would want to sit through, let alone wear a monkey suit for. The sounds in Sonic the Hedgehog have been used in many Sonic games and stay good to this day.
The controls in Sonic the Hedgehog are fantastic. Sonic can get some major speed in this game. Be careful though because speed can kill in this game as well. The bosses have specific patterns that need to be overcome. The levels contain multiple paths which was another neat aspect of this game.
I love how Sonic is freeing those enslaved in Sonic the Hedgehog. This concept still resonates well with me all these years later. Sega looked at the concept and found a nice way to appeal to the American audience. Sonic the Hedgehog spawned all kinds of sequels, and I for one am glad it did.
- Paul
Graphics: 89%
Sound: 92%
Replay/Extras: 92%
Gameplay: 87%
Family Friendly Factor: 89%
System: Genesis/Gameboy Advance
Publisher: Sega
Rating: 'E' for Everyone
Want more info on this product, the company that made this product?
Set web browser to:
Link


Got a question, comment, or a concern regarding this review?
Email them to:
pbury@familyfriendlygaming.com