Sonic the Hedgehog 2
SCORE: 90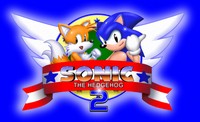 Sega expanded the Sonic franchise with Sonic the Hedgehog 2. Tails joins Sonic, and that makes this a two player game. One family member can play Sonic the Hedgehog 2, but it also allows for two players. There are more worlds in Sonic the Hedgehog 2 however players only get two levels per world now instead of three. There is one level, and then a second one that has the boss at the end. Levels have increased in length and height in this Genesis title. It was also ported over to the Gameboy Advance, and some other platforms. Sonic the Hedgehog 2 continued a franchise that has been around for many years.
The graphics in Sonic the Hedgehog 2 improved everything from the original. Dr Eggman now has all kinds of new robots, and vehicles in an attempt to enslave the poor woodland creatures. Sonic and Tails are on a quest to save them, and stop the evil Dr. Eggman. Most of the colors in Sonic the Hedgehog 2 are alive. The Casino Zone is one such example.
It is funny to think of the musical composition in Sonic the Hedgehog 2 as classic. At the time this Genesis game was released they were new, upbeat, and very fresh. The music is distinctive and sticks in the head. I still enjoy listening to them all these years later.
Sonic the Hedgehog 2 is longer than Sonic the Hedgehog, but it does contain a continue, and the learning curve is much easier. I blew through this game until I ran into the Casino Zone boss. That is one of the more difficult bosses in the game. I had to work at it from that point on.
Sonic games have always been known for their speed. Sonic the Hedgehog 2 is no exception. I love the loops, and twirls in this game. Sonic the Hedgehog 2 is also realistic. If you stop on a twirl you will fall down. Stay under water too long with out air, and Sonic will drown.
It is a pleasure for me to go back and do a retro review of Sonic the Hedgehog 2. This is one of the classic games that has spawned so many sequels.
- Paul
Graphics: 91%
Sound: 92%
Replay/Extras: 93%
Gameplay: 89%
Family Friendly Factor: 89%

System: GBA/Genesis
Publisher: Sega
Rating: 'E' for Everyone
Want more info on this product, the company that made this product?
Set web browser to:
Link


Got a question, comment, or a concern regarding this review?
Email them to:
pbury@familyfriendlygaming.com