Ninjatown
SCORE: 87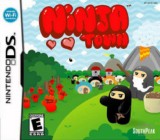 Have I mentioned that I have been on a tower defense genre tear as of late? Well I have been. They interest me, and I have been looking for them as I investigate games to review for the magazine. I explained how we found NinjaTown in my preview. Please read it online for that piece of history. This Nintendo DS game uses cute looking little ninja characters. There is an entire franchise of these characters, and they have appeared in different games. Which is cool. The color of the ninja determines what their skill is. Some throw ice pellets at the demons and others are all hopped up on caffeine.
I mentioned demons didn't I? Yes NinjaTown has these odd looking blobs that are sent by Mr. Demon. They walk along a set path trying to get through the map. The player builds huts for the ninjas. The ninjas will walk up to the bad guys and punch at them. This is comical because no one every gets physically touched. Eventually the life bar is drained and they disappear in a poof. Enemies can be frozen, set on fire, and more which is seen on the screen.
NinjaTown tries really hard to be funny. I give this hand held game an 'A' for effort. Most of the humor is self deprecating. The mayor talks about hiding under his desk cowering in fear while the town is being attacked. Other characters comment on his cowardice. Other humor is off color and the game could have done without it. The music is pleasant and fits the theme of this game. At times NinjaTown can be absolutely insane. What I mean by that is there is a lot going on in various locales. Keeping up can be difficult. At the beginning you will use the fast forward button to send the waves in faster. Later on you won't be.
NinjaTown includes thirty five challenging maps in nine different districts. NinjaTown allows two players to enjoy this game in single card, and multi-card modes. I always appreciate games that include multiplayer modes. I feel that I got my thirteen dollars worth out of NinjaTown.
I enjoy tower defense games now, and that means I enjoyed NinjaTown. There are enough little twists in this DS game to make it fresh and interesting. Every level brought a new challenge, and many times a new skill. Other times new units were thrown into the fray. Certain levels will take multiple attempts due to their difficulty. Others offered me a choice - build more buildings or upgrade existing ones.
On one level NinjaTown teaches us to protect what is ours from those who would try and steal it. This can lead to a form of selfishness. On the other side it teaches to stop evil from marching through the streets. I leave that determination up to you.
- Paul
Graphics: 90%
Sound: 82%
Replay/Extras: 94%
Gameplay: 89%
Family Friendly Factor: 81%
System: Nintendo DS
Publisher: Southpeak Games
Rating: 'E' - Everyone
{Mild Cartoon Violence, Crude Humor}
Want more info on this product, the company that made this product?
Set web browser to:
Link

Got a question, comment, or a concern regarding this review?
Email them to:
pbury@familyfriendlygaming.com