Megamind
SCORE: 83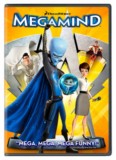 Megamind is one of those pleasant surprises. We went as a family to see it at the $2.50 theater. We were so impressed with it that we purchased it on DVD. Being a fan of super hero movies I really appreciate this movie. Megamind has numerous twists that I was not expecting. The movie is told from the perspective of the super villain. He is not a bad guy, he just got forced into that lifestyle. Technically there is a point in the story where Megamind does choose to be evil. However he is not like evil people in our world. He does not kill the news reporter he kidnaps. He tries various schemes to kill off Metro Man. And at one point he completely conquers the city. But I do not want to get into too many of the plot twists and spoilers.
The animation is really good in Megamind. The various images on this DVD are bright and colorful. The presentation of the super villain is one of the key aspects of Megamind. He acts like a rock star, and in some regards dresses like one. The female characters dress appropriately, and has a generally realistic body. Too many super hero franchises have women look unrealistic which can encourage women to starve themselves trying to keep up.
The humor in Megamind is one of the things that sets it apart. Our entire family was laughing hysterically at numerous points and lines in Megamind. There are some language issues in Megamind. That is one area where Megamind could have improved. The music has a few worldly rock songs that you may or may not recognize. I recognized them and they fit the scenes.
Our kids have watched Megamind numerous times already. I have also enjoyed re-watching this movie. There are behind the scenes with the cast and crew. These bonus features are interesting and informative.
The storyline in Megamind is a real twist on the normal super hero story. I enjoyed the tight writing, and intelligent subject matter in Megamind. Why be a hero? What do you do when you are bored? Getting everything you want does not lead to happiness. What do you want to be? Kids love the characters, and action. Adults will enjoy the thought provoking concepts.
Megamind does contain a mild undertone of criminals are raised wrong, and are really not bad people. There is a major lesson of good will rise up from somewhere to stop evil. I really enjoyed Megamind and believe it is one to look into. Dreamworks is shaking up the genre in some good ways.
- Paul
Graphics: 81%
Sound: 78%
Replay/Extras: 83%
Gameplay: 90%
Family Friendly Factor: 85%
System: DVD
Publisher: Dreamworks
Rating: 'PG' - Parental Guidance
{for action and some language}
Want more info on this product, the company that made this product?
Set web browser to:
Link

Got a question, comment, or a concern regarding this review?
Email them to:
pbury@familyfriendlygaming.com