Dog Pile
SCORE: 79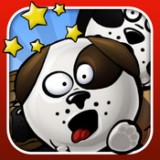 I like the concept behind Dog Pile. This iPhone/iPod Touch/iPad game is a three or more matching game where you drop a dog from the top and have them bounce around until they hit the bottom. If they hit the same color then they go away. So a tried and true gaming concept has been merged with a very old school gaming machine. Dog Pile is deeper than that if you look at the meaning of the two words. These dogs are piled up on top of one another in a Dog Pile. I did not get that clever joke at first, but after some hours with this app it came to me. The various special bumpers and what not (editor: like a punching glove) add some depth to this hand held video game.
Dog Pile includes various themes in the different worlds. I enjoyed some of the graphics and others were not to my personal liking. The good news is there are worlds in Dog Pile that should appeal to various members of the family. The rotund dogs are kept family friendly in the visuals.
Just like there are different visual themes there are also different songs to go with the areas. These songs fit the areas of space, pirate, and comical. The special effect sounds work great for this game. I enjoyed collecting bones and hitting certain bumpers for a higher score.
I picked up Dog Pile when it was free (for a limited time). It is now selling for ninety-nine cents. Each world has twelve levels and there are currently three worlds with a promise of more coming. The amount of levels in Dog Pile are a little below average compared to other games. As they continue to add worlds they will even that out.
The controls in Dog Pile work well as a general rule. I did run into some issues while playing Dog Pile. Some of the things in Dog Pile are hard to see. I would hit something that I did not see. The tilting of the machine is what controls the player uses in Dog Pile. The physics utilized in Dog Pile are fantastic. I loved seeing things roll around after I removed certain ones.
Matching is the first lesson I found in Dog Pile. The dogs are unique enough that all gaming age family members can discern which goes where. I next learned how to tilt the machine to reach my destination. I had fun playing Dog Pile. My one complaint is that this app is on the short side.
- Yolanda
Graphics: 78%
Sound: 79%
Replay/Extras: 75%
Gameplay: 83%
Family Friendly Factor: 79%
System: iPad/iPhone/iPod Touch
Publisher: ArtWitz Design and JoshOClock
Rating: '4+' for 4+
Want more info on this product, the company that made this product?
Set web browser to:
Link

Got a question, comment, or a concern regarding this review?
Email them to:
craftiemom@familyfriendlygaming.com