BMX Jam
SCORE: 75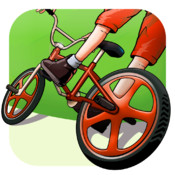 BMX Jam is a game which follows the same path as the Trial series of games which focuses on providing a good use of physics and a series of jumps and tricks that will evaluate any strategy you prepared before. It is certainly a lot of fun, although the game might get frustrating at times with later challenges that are provided in the later stages.
The game offers 4 cities, which include San Francisco, Beijing, Rio and Sydney. You will pretty much have the same objective through all the stages; get to the end of the course as fast as possible. While there is no time limit on the game, the idea is to do it fast, very fast. If you feel like you need to take your time, you can always do it. On your way to the end of the course, you will find stars that are essential in order to unlock new cities and also serve as the best path to follow in your route, although the courses are pretty much straight forward.
Each course is full of challenges that will test your skills; avoiding obstacles, keeping your bike in the right position and performing tricks are all part of the challenge of the game. Controls are pretty simple, 1 tap jumps and additional taps will do the tricks. Knowing when to do the tricks is essential and will certainly earn you more points. Grapchis are very simplistics as well as the sound, but it gets the job done.
BMX Jam is such a simple game but yet it does takes time to master it. There is a variety on level that will keep you entertained for while. The games never feels extremely hard neither does feels like a walk to the park. Mastering a level takes time and will make you come back to try again and again in order to finally master it. I do believe there is a good balance between challenge and fun, and for the price, is a no brainer.
BMX Jam is totally kids-friendly and it is a game that can be played at any time and still be enjoyable. I did have fun with BMX Jam, its simplicity yet hard challenges made me try harder every time while having fun jumping, catching stars and performing tricks, with over 60 levels, it never gets old.
- Miluma
Graphics: 68%
Sound: 69%
Replay/Extras: 75%
Gameplay: 83%
Family Friendly Factor: 80%
System: iPhone/iPod Touch
Publisher: Vivid Games
Rating: '4+' - 4+
Want more info on this product, or the company that made this product?
Set web browser to:
Link

Got a question, comment, or a concern regarding this review?
Email them to:
GameReviews@familyfriendlygaming.com