Spider-Man 4-in-1 Style Kit
SCORE: 84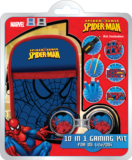 I can not believe how time is flying this year. We have not done many hardware reviews thus far. Apps have kept us really busy. Thankfully a wonderful PR contact talked me into reviewing the Spider-Man 4-in-1 Style Kit. This kit is for the Nintendo DSi, and Nintendo 3DS. The kit includes a DSi Skin, 3DS Skin, Style Bag, and Mold Stylus. Spider-man is extremely present in all aspects of the Spider-Man 4-in-1 Style Kit.

The Spider-Man artwork is fantastic in Spider-Man 4-in-1 Style Kit. The Style Bag is about the size of a child's lunchbox. We let some kids mess around with the Spider-Man 4-in-1 Style Kit and they really enjoyed it. The Skins look better on the machines than they do in the package. Sakar has different styles, so there should be some character that your child will like. I heard of Batman, and some others. I am not sure if cool characters like Veggie Tales, or LarryBoy are given this kind of treatment.

The skins feel good on the machines. I was concerned about that. But they feel fine. The bag itself feels very sturdy. The Velcro portions work amazingly well. I like the texture to the Style Bag and how well they protect the machines inside. Speaking of which there is a lot of space inside.

We have been putting the Spider-Man 4-in-1 Style Kit through the wringer. Thus far it has come through with flying colors. I find this product to be useful on various fronts. Being able to have a Nintendo DS (or Nintendo DSi) and a 3DS in the same case means Gameboy Advance games all the way up to current 3DS games can be played. We were also able to fit in a glasses case. Eighteen games can easily fit in the Spider-Man 4-in-1 Style Kit. In fact more if you try.
We did run into one issue with the Spider-Man 4-in-1 Style Kit. The Nintendo DSi did not always want to close properly when the skin was on. We tried various adjustments but the problem crept in. Which means there is little wiggle room when putting it on. You have to be perfect.

Cases have gotten smarter over the years. I am very thankful that I was able to review the Spider-Man 4-in-1 Style Kit. This is one slick little product that fits a need. Families can organize their kids hand held gaming products thanks to the Spider-Man 4-in-1 Style Kit. I appreciate the flexibility of the product. We tried various combinations and they all worked wonderfully.
- Paul
Graphics: 84%
Sound: 85%
Replay/Extras: 80%
Gameplay: 87%
Family Friendly Factor: 84%
System: Nintendo DSi/Nintendo 3DS
Publisher: Sakar
Rating: 'NR' - Not Rated
Want more info on this product, or the company that made this product?
Set web browser to:
Link

Got a question, comment, or a concern regarding this review?
Email them to:
pbury@familyfriendlygaming.com