Petz Hamsterz Family
SCORE: 77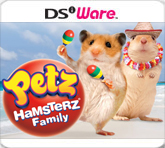 The Hamsterz franchise has scored very well with Family Friendly Gaming over the years. I heard about Petz Hamsterz Family on the Nintendo DSi, and decided to purchase it. Hamsters are great pets, and there is a family photo of me as a baby trying to put one in my mouth. So I hoped this hand held game would be just as yummy. Petz Hamsterz Family costs 800 points (editor: essentially eight dollars), requires a Nintendo DSi, and an internet account.
The hamsters in Petz Hamsterz Family are cute, but there is less interaction with them. There is more attention put into the mini games. The animations are okay in Petz Hamsterz Family, not up to par with previous Hamsterz games in my opinion. Maybe I am expecting more on a more powerful hand held. Your little guy gets to bowl, be flush into baskets and other interesting things. If you miss the basket then your hamster has a little parachute that saves him. PETA may not approve of flinging a hamster into the air, which encouraged me to do even more.
I found some fresh, uplifting, and cheerful sounds in Petz Hamsterz Family. There were times that I was getting tired of some of the same sounds. I did not find any offensive sounds or language while playing Petz Hamsterz Family on the Nintendo DSi.
Players can accumulate multiple pet hamsters as well as purchase food and mini games. Petz Hamsterz Family is very generous in giving the player currency to purchase these things. Hamsters level up the more you play certain mini games, and they also grow up. I feel like my eight dollars was wasted on this game.
I failed the game play of Petz Hamsterz Family because it is spotty. Some times in a mini game things would work beautifully, and others it would not work at all. What irritated me was I was doing the same thing. Imagine almost making it into a basket, and making a minor adjustment to go just a little farther. Your little guy gets nowhere near the basket. Then another time I do something completely different, and he landed safely in the basket. It made no sense to me. Bowling was the same way. I would have preferred more time spent on playing with the hamsters since that is the past recipe for success.
I enjoyed watching the little critter walk around on the hand held. Petz Hamsterz Family is the kind of a game that I consider safe for the entire family. If flinging a hamster through the air, or using a hamster to bowl with bothers you, then run far from this game. I would like this franchise to return, and to its roots.
-Sam
Graphics: 84%
Sound: 79%
Replay/Extras: 77%
Gameplay: 67%
Family Friendly Factor: 79%
System: Nintendo DSi
Publisher: Ubisoft
Rating: 'E' for Everyone
{Comic Mischief}
Want more info on this product, the company that made this product?
Set web browser to:
Link

Got a question, comment, or a concern regarding this review?
Email them to:
GameReviews@familyfriendlygaming.com