Jellytoons Birthday Countdown
SCORE: 88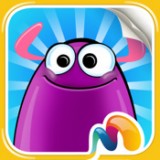 Mindshapes has created a unique interactive children's book with Jellytoons Birthday Countdown. Transform your iPad, iPhone, or iPod touch into a fun storybook for your kids. This was the first app of its kind that I've seen, so I was eager to dive in and see how well it came together.
Visually Jellytoons Birthday Countdown is very cartoon-like and is full of bright colors. Each page is laid out like the pages of a children's book. There's a colorful cartoon world to be discovered within and several loveable characters to meet along the way. The text is large and easy to read and the artwork is simple but well detailed. If you're picturing a typical e-book, you can clear that image from your mind. This app was designed to be interactive and it looks the part.
Part of the interactive appeal of Jellytoons Birthday Countdown is the audio feedback your child will experience. There's cheerful music playing in the background and each page is wonderfully narrated. The female narrator has a British accent which adds a refined touch (if your child asks you to join them for a spot of tea, you'll know they've been using this app too much). As your child turns each page the narrator will begin reading the story. For children learning to read, each word on the page can be individually tapped and the narrator will read it aloud. Children will also enjoy the entertaining sound effects produced as they interact with objects throughout the story.
The replay value of this app is difficult to measure. Both of my children seemed to lose interest in the app after a few times through the story. While they thoroughly enjoyed it initially, it did not seem to have lasting appeal. Players can replay the story and attempt to find all the interactive objects on each page or just practice their reading. In all other regards the app has the replay value of a regular book. The 14 page interactive Jellytoons Birthday Countdown book is about $2 through the app store making it less than you'd likely pay for most tangible children's books.
While this interactive book isn't really a game, it does feature some of the same basic principles. The point of the story is to guide Max to Bobo's house for Bobo's birthday party. Along the way you recruit the rest of Bobo's friends through various methods. This usually involves some type of interactive mini-game to get the friend to join your entourage. For example, players will help put gifts into a box for wrapping, decorate the house for the party, and guide friends down a winding road. There are several other interactive things to do throughout the story that are sure to make your children smile. The controls are intuitive and work especially well on the iPad. On the iPhone and iPod Touch some of the items are a bit difficult to tap accurately due to their small size. I initially experienced some technical issues running this app on my iPod Touch. Mindshapes tech support was very responsive and helpful when I contacted them and a patch was released within a few days that corrected the issue.
Jellytoons Birthday Countdown is absolutely safe for all ages. I've played through this app myself several times and I found no traces of anything offensive. The story is cute and simple. Families can enjoy this story together and will have fun interacting with the characters. I really like the idea of interactive books and utilizing their potential to get kids interested in reading. I look forward to more releases in this series by Mindshapes. If you've ever thought of trying an e-book for kids, this interactive app is sure to set the standard and would be a great place to start.
-Roger
Graphics: 90%
Sound: 93%
Replay/Extras: 79%
Gameplay: 89%
Family Friendly Factor: 90%
System: iPad/iPhone/iPod Touch
Publisher: Mindshape
Rating: '4+' for 4+
Want more info on this product, or the company that made this product?
Set web browser to:
Link

Got a question, comment, or a concern regarding this review?
Email them to:
pbury@familyfriendlygaming.com