Wall-E
SCORE: 95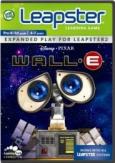 Our six year old is to thank for the review of the Leapster version of WALL-E from Leapfrog. He let us know about it, and we immediately got ahold of the right person to get a review of this wonderful game going. I really appreciate Leapfrog making this game compatible with both the Leapster, and the Leapster 2. That inclusive nature is really helping them shine as a family friendly company.
WALL-E teaches Letter Recognition, Spelling, and Mathematics. Almost the three "R's" we were taught in school. Audio visual is one of the most proven ways to teach humans of any age, so it is great to have a video game like this one that teaches good lessons. Family Friendly Gaming always lets kids of the correct age range try educational games, because we believe it is only fair (editor: and it is part of our holistic reviews).
The visuals of WALL-E are very artistic, and the quality is a lot higher than I was expecting. Eve, and WALL-E both look great in this game. A lot of positive images are used throughout this game. The sounds are also a lot better than I was expecting, especially the sound bytes of the robots. WALL-E includes a perfect amount of replay value to it. There are plenty of games to play, words to spell, and levels to mature into.
The control scheme of WALL-E is great, and the verbal instructions are exactly what kids of this age range need. My son found WALL-E on the Leapster to be a great game to play, and he has been learning some great lessons from this game. If you are looking for a good, clean, and educational game for your kids, then I recommend purchasing WALL-E.
- Yolanda
Graphics: 90%
Sound: 96%
Replay/Extras: 100%
Gameplay: 94%
Family Friendly Factor: 94%
System: Leapster
Publisher: Leapfrog
Rating: 'NR' for Not Rated
{Ages 4 - 7}
Want more info on this product, or the company that made this product?
Set web browser to:
Link
Got a question, comment, or a concern regarding this review?
Email them to:
craftiemom@familyfriendlygaming.com