R-Type Command
SCORE: 72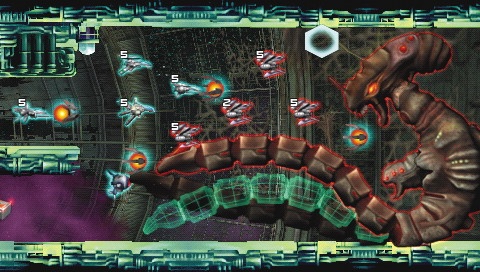 R-Type Command is nothing like what I was expecting. R-Type has been known for its ultra-hard side scrolling shooting action set in space. You know the drill, save the earth from disgusting aliens and somehow you are the only ship left alive. R-Type Command is a turn based strategy game set in space. In other words the franchise has branched from shooter to strategy. There are not a lot of turn based strategy games set in a futuristic mode so in a lot of ways R-Type Command fills a void. It takes a little getting used to, but once you get the concept of this game and all of the ships it has some nice depth.
The cut scene movies look wonderful on the Playstation Portable (PSP). The images of the ships themselves are okay, and the background graphics of each level are decent. In fact I did not realize there was so much vibrant color in space. There is some animated blood in this E10+ rated video game. There is also a lot of shooting missiles at one another, along with ray beam kind of weapons as well. The violence is at the level of say Advance Wars,
R-Type Command has quite a bit of text where the character discusses current missions and what is going on with the earth. I really liked the lessons in duty, honor and obedience that are found in this PSP video game. The music is nice, and fits the theme quite well.
R-Type Command gets progressively more difficult, and is adding more ships to play with. Just learning about which ships do what, and picking the right armada for a level is entertaining for me. I love the strategy kind of video games, and R-Type Command was a very pleasant surprise for me personally. Atlus even made sure an ad hoc mode was included so we can go head to head against friends. If you like strategy based video games, and would like to try one in space then R-Type Command is worth your hard earned dollars.
The controls within R-Type Command work nicely. Levels can be replayed to acquired materials for more ships. I do wish there was a way to scrap a ship or two that are obsolete so I could get to my ideal armada much quicker. It would have also been nicer to find places to recruit more pilots are different stages of the game. All in all R-Type Command is a game I found is fun to play on the PSP.
War is never pleasant, but thankfully R-Type Command tones down those horrors. Saving the human race from the evil Bydo's is fantasy based, and it makes me think of how Christians work diligently to save people from enslavement to sins. Sequels please.
- Paul
Graphics: 66%
Sound: 73%
Replay/Extras: 77%
Gameplay: 72%
Family Friendly Factor: 71%
System: Playstation Portable
Publisher: Atlus
Rating: 'E10+' for Everyone 10+
{Animated Blood, Mild Fantasy Violence}
Want more info on this product, or the company that made this product?
Set web browser to:
Link
Got a question, comment, or a concern regarding this review?
Email them to:
pbury@familyfriendlygaming.com