Petz Dogz 2
SCORE: 79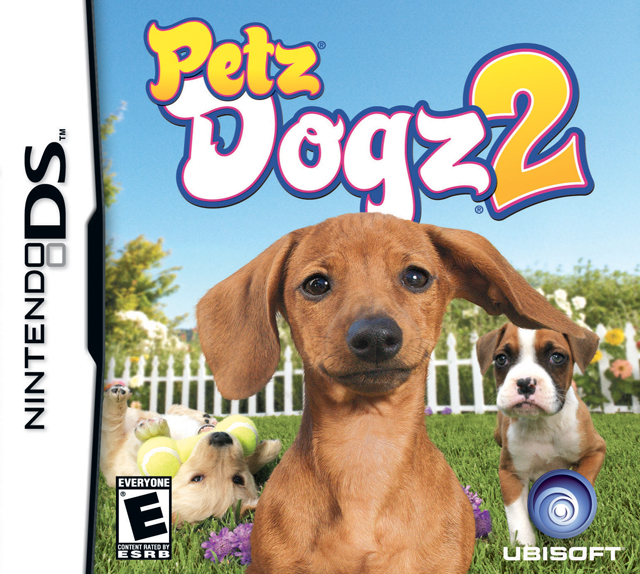 It took me a few tries to figure out what I was supposed to do in Petz Dogz 2 on the Nintendo DS. I was expecting a Nintendogs kind of video game. Ubisoft shook up the game in a way that you will either love, or hate. I have yet to find anyone that falls in the middle. Petz Dogz 2 starts the player with picking out a cartoonish looking doggie, that goes to a house. Decorating the house with the supplies on hand is the next chore. After that the player is encouraged to go shopping in town. I spent some time trying to figure out how I would earn money to purchase anything. Eventually I went to town with my tail between my legs hoping to find some way to make money. Egg was on my face when I found out that I "bought" items by beating mini games. The hula hoop game is a lot of fun, but most of the rest are just card games like Poker. So I could go back and add more items to the house.
The visuals in Petz Dogz 2 are very cartoonish. The artistic style is cute, but the puppies can not be played with a whole lot, so it defeats the purpose in my book. I did not find any offensive images while playing the DS version of Petz Dogz 2.
Petz Dogz 2 has average sounds. Nothing really stands out, and the little bits of barking were not as cool as I had hoped them to be. There was nothing offensive in the audio department either.
My one concern with Petz Dogz 2 is a lot of people will think they are going to get to play with puppies. Winding up with just some mini games was a bit of a surprise for me. The back of the box does state this, so I hope ya'll read those before making a purchase. There are plenty of items to unlock, and plenty of breeds of dogs.
There are eighteen different mini games that can be found in Petz Dogz 2. I wound up running into the seven card games a lot, and had trouble. Part of my problem dealt with not being sure how to play certain games. I let my ten year old niece try this game and she also had problems with it. I also have to question how proper it is to teach children how to play gambling games like Poker. I did have fun with the hula hoop mini game though. There is also an issue with the main game play theme of collecting items for the house (editor: meaning that is about all there is to do). The card games are all luck based, so it can get frustrating.
As my review touched on earlier the card games may be something you ponder when thinking about Petz Dogz 2. As long as you realize you are getting a mini game compilation you will be good. Aside from things like Poker Petz Dogz 2 is safe for the entire family. I would like to see a sequel to this Nintendo DS game especially if more interaction with the puppies is included.
- Yolanda
Graphics: 85%
Sound: 77%
Replay/Extras: 80%
Gameplay: 74%
Family Friendly Factor: 80%
System: Nintendo DS
Publisher: Ubisoft
Rating: 'E' for Everyone
Want more info on this product, or the company that made this product?
Set web browser to:
Link
Got a question, comment, or a concern regarding this review?
Email them to:
craftiemom@familyfriendlygaming.com