Ninja Gaiden Black
SCORE: 35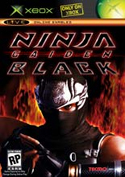 We get a wide array of request for video game reviews from a variety of different interested parties. Games like Ninja Gaiden Black get put on a lower priority listing because of the rating and lack of reviewers wanting to subject themselves to such bad content. The WMG finally decided to give this one a whirl to assist those who can not immediately tell Ninja Gaiden Black is a bad video game. Maybe they are listening to worldly wisdom, and ignoring God's wisdom.
Ninja Gaiden Black is bloody, and ultra violent. There really is no point in all of the violence this Tecmo produced Xbox video game has. There are also women dressed in inappropriate ways in this video game. When will mature start meaning a mature attitude about women? When will mature start to show women as more than sexual objects for immature teenage males to lust after? In the WMG's opinion this game should have been rated adult only, since that is the core of the content of this video game. As if all of the content problems were not enough there are also numerous problems with how the camera works. The graphics are okay, and did not really impress the WMG personally.
Ninja Gaiden Black teaches certain eastern religious ideology, which is no surprise since there is a lot of occult and demonic presence in this ninja based video game. There are a few issues with the language as well. The music is okay, but nowhere near the WMG had been led to believe by those who worship this game. This is only a video game and no one should be worshipping it.
Tecmo did include the original version of the arcade version of Ninja Gaiden. That can however be gotten other places so it is not much. The content problems get in the way of replaying this game. In order to go through the game though a lot of replay will be required since the difficulty level is way too high.
The layout of the controls makes little sense to the WMG. In fact they led to hitting the wrong button way too often. When a game requires constant mega violent fighting, it is important for the controls to work flawlessly. This is definitely the reason the game is so difficult. The WMG had zero fun playing this game.
Ninja Gaiden Black is a classic example of a video game that the world calls good. The wisest worldly person is a fool compared to God's wisdom. This game is one to avoid. It was a major chore for the WMG to play this game, review this game, and pray about this game. Ninja Gaiden Black was a major drain on the soul. Please avoid Ninja Gaiden Black at all costs.
- Working Man Gamer
Graphics: 34%
Sound: 51%
Replay/Extras: 30%
Gameplay: 39%
Family Friendly Factor: 22%
System: Xbox
Publisher: Tecmo
Rating: 'M' for Mature
{Blood and Gore, Intense Violence}
Want more info on this product, or the company that made this product?
Set web browser to:
Link
Got a question, comment, or a concern regarding this review?
Email them to:
WorkingManGamer@familyfriendlygaming.com