My Little Pony The Runaway Rainbow
SCORE: 87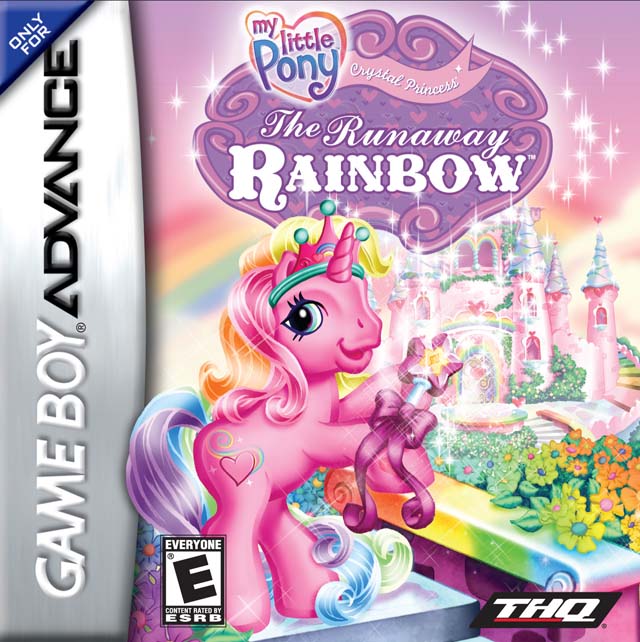 My Little Pony The Runaway Rainbow on the Gameboy Advance (GBA) is a great game for little girls. Why does it take a girls game to teach lessons like helping others? The princess pony Rarity assists in preparation of the rainbow celebration. There are five exciting levels in Breezie Blossom, Ponyville, and Unicornia. Fourteen different mini games are unlocked at different points in the game. This GBA cartridge follows the My Little Pony DVD movie.
The graphics in My Little Pony The Runaway Rainbow are very vibrant, bright and colorful. Rainbow colors, and different colored unicorns, ponies, and breezies are all throughout this game. THQ has been doing a very good job of reaching out to the females of the family, and it shows. The ponies animation well, and many of the models are stretching the GBA to its limits. Webfoot Technologies obviously spent a lot of thought, effort, and energy into the details of the characters, backgrounds, and levels. All video games should include no offensive images like this game. Wholesome images are used properly in this game as well.
I really like the music in My Little Pony The Runaway Rainbow. It is so pleasant, uplifting, and joyful. Why can't more video games have positive music like this game? All of the sounds are very crisp and clear. I wish there had been some more special effects sounds, but what is there works well.
There are some neat little mini games (yes the fourteen mentioned prior), that can add to the replay. Some of these include dressing up Rarity the Unicorn, memory, and finding the Breezie. The five different levels take anywhere from thirty to forty-five minutes to complete. At the end of each level a password is given. That whole password part of the game is the irritation I have. I wish Webfoot Technologies had included a save feature instead. In my estimation My Little Pony The Runaway Rainbow is worth your hard earned dollars for the girls of the family.
Rarity spends most of the game collecting certain items for other characters in the game. This involves walking around finding the item, and taking it back to the appropriate character. My Little Pony The Runaway Rainbow does have arrows guiding the way if the player sits there for a few seconds. The mini games break up this action quite well. A general reading ability is needed to properly enjoy this game.
My Little Pony The Runaway Rainbow teaches helping others, recognizing differences in others, owning up to mistakes, and being responsible. This game is thankfully totally safe for the entire family. Because it is My Little Pony most likely only the female side of the family will be interested. It was my pleasure to receive this game, play it, and review it. I wish there were more video games like this one on the market. A Nintendo Wii, and/or Xbox 360 versions of My Little Pony The Runaway Rainbow would be perfect for a sequel (hint, hint).
- Yolanda
Graphics: 95%
Sound: 87%
Replay/Extras: 82%
Gameplay: 80%
Family Friendly Factor: 91%
System: Gameboy Advance
Publisher: THQ
Rating: 'E' for Everyone
Want more info on this product, or the company that made this product?
Set web browser to:
Link
Got a question, comment, or a concern regarding this review?
Email them to:
craftiemom@familyfriendlygaming.com