Land Before Time Into the Mysterious Beyond
SCORE: 86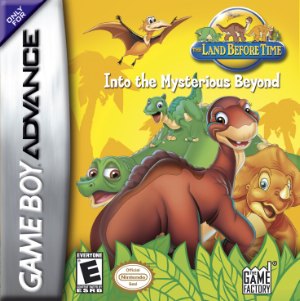 The Land Before Time movies have been cute little frolics through a fantasy land based on dinosaurs. This franchise is for children, although adults can enjoy it as well. The Game Factory capitalized on this popularity with the Gameboy Advance game Land Before Time Into the Mysterious Beyond. Yes Family Friendly Gaming is covering yet another game with a lengthy title name. My apologies up front to those who are annoyed at so many other games with long titles. I do not make these games, but I do pass along your family friendly approved comments for pithy title names to the developers.
The graphics are very bright and colorful in Land Before Time Into the Mysterious Beyond. There are different game play levels and most of them have nice details. Certain levels have some very large character models, and other levels have some good size to them. The last level has the grandfather dinosaur (don't even ask me to try and tell you what kind of dinosaur it is) fighting off other dinosaurs in other to get to the trapped children. The rest of the game has players avoiding the bad animals.
The music is pleasant, and brings something to the table. The special effects fit, especially the parts where the dinosaurs are eating vegetation. Just watch out for those red snakes. I did not find any offensive sounds in this game.
The key factor to understanding Land Before Time Into the Mysterious Beyond is this is a kids game. Children will find a lot of replay value in this one. An adult can beat this one in a few hours, but has to have the maturity to realize children will not be as quick. This game can be found for a few dollars, so is worth your hard earned bucks in my opinion.
For dinosaurs they move pretty good. My biggest concern about Land Before Time Into the Mysterious Beyond was if it would be slow and clunky. Thankfully The Game Factory made sure the controls worked at an appropriate speed. There is some intelligent design to the layout of the levels.
With all of the press coverage on all of the bad video games out there, it is refreshing to play a game like Land Before Time Into the Mysterious Beyond on the GBA. This game is fun, fresh, and based on some of kids favorite characters. There is also a real innocence to the Land Before Time. I will be recommending this game to my pastor for his children. Sequels are welcome here at FFG.
- Paul
Graphics: 81%
Sound: 86%
Replay/Extras: 88%
Gameplay: 84%
Family Friendly Factor: 93%
System: Gameboy Advance
Publisher: The Game Factory
Rating: 'E' for Everyone
{Mild Cartoon Violence}
Want more info on this product, or the company that made this product?
Set web browser to:
Link

Got a question, comment, or a concern regarding this review?
Email them to:
pbury@familyfriendlygaming.com