Gelaskins
SCORE: 77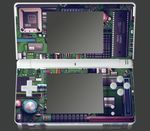 Putting skins on electronic devices is nothing new, Gelaskins Inc. has taken it to an amazing artist level. They have mixed durable, reusable, flexible skins with some very interesting art work. I tested the artwork by taking my Nintendo DS, and Playstation Portable out to public areas. I noticed people looking at it, and I had a few questions about where I bought my DS/PSP. After the short explanation about the skin art, they were very interested in this level of customization. Gelaskins are also available on the Ipod, Iphone, cell phones, and Laptops.
There are some amazing works of art that can be found on the Gelaskins website. The look of these completely transform the machine into something more than it was before. There are a couple of pieces of artwork that could be considered risque, but they are in the minority. The majority of the art work is very family friendly.
Gelaskins feel very smooth, and are easy to take off. The more complex the machine (I am looking at you Nintendo DS), the more careful I had to be putting the skin on. Like any skin crinkles can appear if the installer is not being slow, careful, and intelligent.
I tested the longevity by putting on, and taking off the skin multiple times over the span of a few days. There have been no issues with the Gelaskins. As far as I can tell there is a definite intelligent design to their creation. Most people will leave them on, and the adhesive bonds quite naturally.
I have to be honest with the usefulness of the Gelaskins. They do protect your electronic machines from scratches, bites, and UV radiation. Aside from that they are a cosmetic addition that frugal gamers will avoid. I do see some use for them, and know that there are gamers who want to be unique among their peers. Gelaskins is perfect for the gamer who wants to be different, set apart, and original.
I have already mentioned a rare few of the pieces of art work that could be enticement to lust issues. Since they can be easily avoided I do not find them to be much of an issue. I would love to see a Veggie Tales, Boz, Hermie and Friends, and/or Angel Wars skin to be used on these machines. In other words I want sequels (as we say here at Family Friendly Gaming in relation to video game releases).
- Paul
Graphics: 81%
Sound: 75%
Replay/Extras: 78%
Gameplay: 71%
Family Friendly Factor: 79%
System: PSP/DS/Ipod/Laptop/Cell Phones
Publisher: Gelaskins Inc
Rating: 'NR' for Not Rated
Want more info on this product, or the company that made this product?
Set web browser to:
Link

Got a question, comment, or a concern regarding this review?
Email them to:
pbury@familyfriendlygaming.com