Cardo S-640
SCORE: 79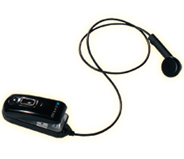 Family Friendly Gaming continues to branch out, grow and diversify. We have decided to do our first ever cell phone peripheral review. The Cardo S-640 revolutionalizes bluetooth by giving the user a clip on, and ear piece. One of the most interesting aspects of this is the ear piece can be used like a microphone (editor: as long as the sound is turned up and stays close enough to the ear). The best way to think about that is a compact speaker phone.
The look of the Cardo S-640 is very sleek and efficient. The black color will go with just about anything and not stand out. Unless of course you are wearing white only then it might clash a bit. The sync light is blue at the proper time, and red when it needs to be. This unit lets me know what it is doing, and does so at the right times.
The feel of the Cardo S-640 is good. It fits into the ear better than other blue tooth cell phone devices. That fitting makes it a lot easier to hear when using this unit. The Cardo S-640 feels so good that it has replaced my normal blue tooth device and will remain for quite some time (Lord willing).
The one problem I have had with the Cardo S-640 has been the length of the charge. It is supposed to last six hours, but my experience has been less than that. The next concern I have is the cable that comes with this unit. I worry that it could get tangled, cut, or otherwise damaged.
I have found the Cardo S-640 to be extremely useful. The ear piece works better than my last blue tooth headset, and it a definite improvement upon the technology. The clip on aspect is nice, but if the ear piece is on the clip make sure you keep it close enough to your ear. I had trouble with it on my shirt in a crowded, and rather loud area. The price of the Cardo S-640 is fair, and lower than other blue tooth devices I am familiar with.
We normally come down on cords in the family friendly factor, however this cord is small enough that I can not see anyone choking to death, or tripping on it. The Cardo S-640 allows the cell phone user to keep their hands free while talking on the phone. That means a child can receive help on homework while talking to the doctor's office, or their teacher for that matter. I would like to see future products from Cardo Systems continue down this path with even more improvements.
- Yolanda
Graphics: 78%
Sound: 82%
Replay/Extras: 69%
Gameplay: 84%
Family Friendly Factor: 81%
System: Cell Phones
Publisher: Cardo Systems Inc.
Rating: 'NR' for Not Rated
Want more info on this product, or the company that made this product?
Set web browser to:
Link

Got a question, comment, or a concern regarding this review?
Email them to:
craftiemom@familyfriendlygaming.com