The Lord of the Rings Return of the King
SCORE: 59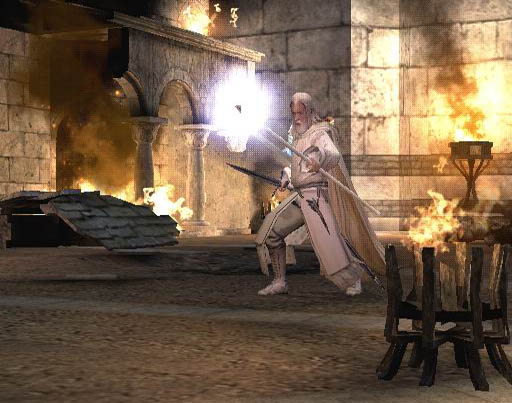 The Lord of the Rings was written by a well known and prominent Christian - J.R.R. Tolkien. The recent movie trilogy based on the Lord of the Rings did amazingly well at the movie theaters, and on DVD. The video games from Electronic Arts have not been as well received. A buddy came over wanting to hang out and play a Gauntlet style game, and this is what came out of my pile. We should have found something else to play, but then you know what they say about hindsight. There are nine playable characters from the movies including Gandalf, Aragorn, Legolas, Gimli, Sam, and Frodo. There are fifteen levels to navigate through. Scenes from the movie, and music is also included. The game also includes areas not from the film. Cooperative game play is one of the most important features.
Graphically LOTR: ROTK is really dark, as the screen shot exhibit. The 3D models of the characters is actually press impressive. The bad guys are disgusting, especially the ghost king. Speaking of that, the ghoulish images are included, and quite bothersome to me. There are images of blood, and gore in this game as well. The camera also seems to work against the player at the worst time in some levels.
The sounds in LOTR: ROTK are very themed from the movie, and that is usually a good thing. There are monsters whose death cries are pretty tiring after awhile. These sounds are crisp and clear. The sounds of medieval warfare are far from cheerful. The voice acting seems to have been taken directly from the movie.
There is a lot of different paths that a player can take to get to all of the fifteen levels. Each of the characters has plenty of special moves that can be bought from the kills in the levels. More than one player can play this at the same time. Even though this game can be found really cheap on the Playstation 2, Gamecube, and Xbox; my opinion is it is a waste of your hard earned dollars. Fans of the books and/or movie series will be disappointed by the repetitive and mindless violence.
The controls are very quick and responsive in LOTR: ROTK. The layout of the controls is a different matter. Many of the special moves are difficult beyond belief to perform. The level design causes problems, and we found ourselves getting stuck often. Certain switches that need to be turned on to progress are very difficult to find.
The worst part about LOTR: ROTK is all of the Christian elements were completely stripped. There is not anything that even addresses the faith of J.R.R. Tolkien. The violence in this game is most definitely over the top, and very excessive. It was a chore to play this game, and to do the review. I was rather embarrassed to be playing this game, and very disappointed with the content.
-Paul
Graphics: 58%
Sound: 62%
Replay/Extras: 61%
Gameplay: 57%
Family Friendly Factor: 59%
System: Xbox/Gamecube/Playstation 2
Publisher: Electronic Arts
Rating: 'T' for Teen
{Violence}


Want more info on this product, or the company that made this product?
Set web browser to:
Link

Got a question, comment, or a concern regarding this review?
Email them to:
pbury@familyfriendlygaming.com