Strike Force Bowling
SCORE: 76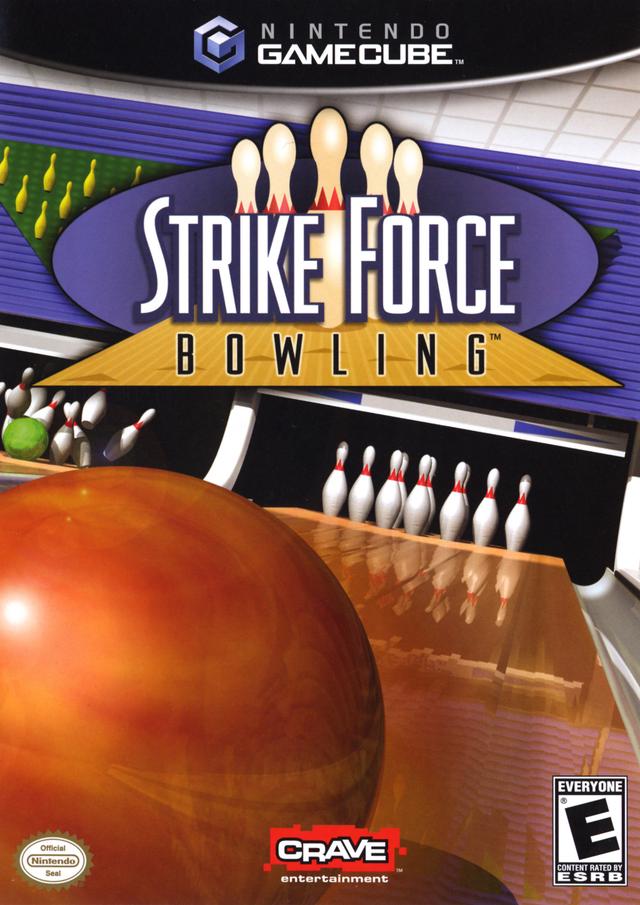 Crave Entertainment has garnered a lot of our attention here at Family Friendly Gaming dues to their recent releases of the BIBLE Game, and the LarryBoy video game. The WMG wanted to take a peek at some of their older titles, and see if maybe they had a gem or two in their past to somehow explain their embrace of family friendly titles. Strike Force Bowling can be found on the Playstation 2, Gamecube, and the Xbox (editor: Playstation 2 version was reviewed). This is a rather unique bowling game as some of the lanes are done in some very fascinating locales. For example over the draw bridge of a castle, or the peer on a tropical island.
Graphically Strike Force Bowling makes the WMG oooh and awe in some parts; and cringe on the fringe in other parts. Some of the bowling balls like the world are spectacular to see, especially close up. Some of the locations like the normal bowling alley have some sweet polish, and shine to them. Some of the other areas do not look as good though. There are also women dressed in-appropriately. This is a bowling game for Petes sake. Yous don't need to have women showing it off in a bowling game. Are we men safe nowhere?
Sounds are also a bag of Cracker Jacks. Some nummy treats with caramel, and some ow that hurt my poor tooth. Just like a tooth ache, the sounds will throb, and linger. Crave Entertainment did a good job with the sounds inside the bowling alley. The menu screens, and other locations hurt the WMG's ears. Turning the sounds off is the best solution.
There are plenty of bowlers to unlock, as well as locations. Strike Force Bowling includes some neat modes like the golf bowling. Since Strike Force Bowling can be found cheap the WMG feels it is worth your hard earned dollars if you can get by the problems with the game. Multiple people can play this game at the same time.
The controls are quick, and responsive. The way the ball is rolled works good with the two bars. The control scheme is easy to pick up, and cool to work with. Understanding bowling goes a long way in this game. The ideas behind some of the locations were nice ideas, even if they all did not work.
The attire of some of the females is the biggest problem with this PS2 video game. Bowling is a neat game, and the attempts to try some new things are welcome. If they clean up the problems a sequel would work.
- Working Man Gamer
Graphics: 72%
Sound: 67%
Replay/Extras: 90%
Gameplay: 87%
Family Friendly Factor: 66%
System: Gamecube/Playstation 2
Publisher: Crave Entertainment
Rating: 'E' for Everyone


Want more info on this product, or the company that made this product?
Set web browser to:
Link

Got a question, comment, or a concern regarding this review?
Email them to:
WorkingManGamer@familyfriendlygaming.com