Strawberry Shortcake Sweet Dreams
SCORE: 91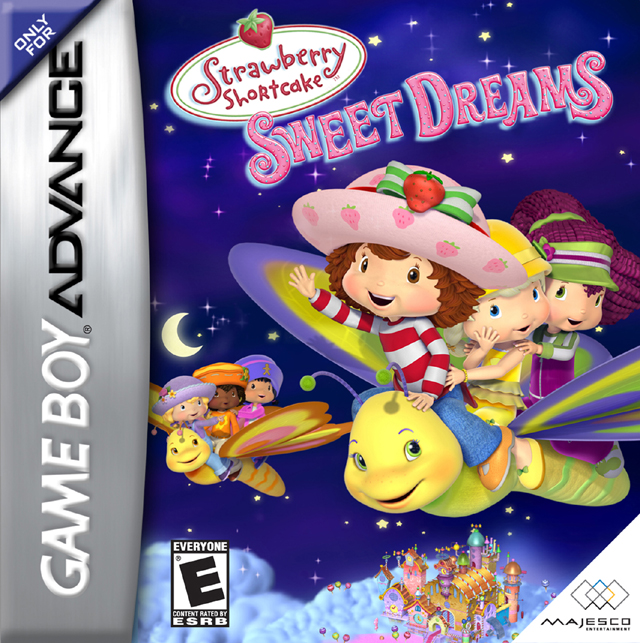 When I was a little girl I had Strawberry Shortcake dolls that had such a sweet aroma to it. The television show was also something that kept myself and my sister entertained. Fast forward to the present, and now that I am a mommy of two boys I don't get to relive those Strawberry Shortcake days very often. When I found out about this Strawberry Shortcake game, I absolutely had to get a copy of it. Strawberry Shortcake Sweet Dreams on the Gameboy Advance is based on the movie of the same name. Purple Pieman is threatening Strawberryland, which means Strawberry Shortcake and her friends (Raspberry Torte, Angel Cake, and Sleepbug) need to save the day. This game is geared towards little girls.
Graphically Strawberry Shortcake Sweet Dreams does a decent job on the Gameboy Advance. Some of the large models (as pictures on this page show) used for the different characters is quite impressive indeed. The color scheme is very bright, and quite a few colors are used throughout. The details are nicely done throughout the entire game, and the graphics have different diversity. That diversity has to do with the different play styles in the different levels. The artwork brought back all kinds of Strawberry Shortcake memories from my happy childhood. Wholesome images are also used quite properly in this game. The only complaint I have with the images is some of the items to be collected can be hard to see in some of the levels.
The sounds in Strawberry Shortcake Sweet Dreams are very crisp and clear throughout the entire game. The sounds also work well, and assist in explaining when the wrong item was picked up (this was only a problem in one of the games levels). The music is very cheerful, and remind of a time when there are so many happy memories. I find it interesting that Majesco Entertainment was able to capture the look, and sounds of this franchise so well.
There are some really cool images that can be unlocked in this game, and they are definitely worth the work to find. The games levels are fun to the point that little girls may want to replay them. As an adult I found the game to be a little bit on the short side. Since it can be found pretty cheap, and there are not a whole lot of girls games on the market, I would say it is worth the money.
The controls were perfect in all levels but one. The level with the roller coaster ride has jumps in it that the controls would not function normally. Thankfully thanks to editor in chief Paul (my ever so helpful hubby), he helped me solve that problem. The level designs in each of the levels were fun to play, even if a few of the levels were a little repetitive (just inside that level). I had fun playing this game.
Strawberry Shortcake Sweet Dreams has a very nice message about following your dreams, and using love to nurture and grow. This game is safe for the entire family, although not many males will be interested. It was my joy, and pleasure to play, review, and write about this game. A sequel to Strawberry Shortcake Sweet Dreams would be a dream come true (pun intended).
- Yolanda
Graphics: 89%
Sound: 95%
Replay/Extras: 83%
Gameplay: 90%
Family Friendly Factor: 100%
System: Gameboy Advance
Publisher: Majesco Entertainment
Rating: 'E' for Everyone


Want more info on this product, or the company that made this product?
Set web browser to:
Link

Got a question, comment, or a concern regarding this review?
Email them to:
craftiemom@familyfriendlygaming.com