Nyko Xbox 360 MultiReader
SCORE: 82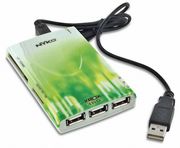 One of the real design flaws to the Xbox 360 is the lack of four controller ports on the front of the machine. Microsoft must think that only people with one friend (editor: and/or family member) will play the Xbox 360. Thankfully Nyko has come to the rescue by releasing the Nyko Multi-Reader Xbox 360. Nyko did not stop at giving players the ability to turn one port into three. They also included a media card reader, and a multimedia experience.
I will admit that the Nyko Multi-Reader Xbox 360 is not a lot to look at. After all this is a box with a cord. What interests me is how efficient this little unit is. There is also text descriptors so each and every user will know exactly what they are using. Or for those of us technologically challenged - we will know where to stick the different things. The artwork on the unit is okay.
Nyko Multi-Reader Xbox 360 feels sturdy. Even though this unit is compact it has each port spaced out to make using multiple items at the same time a snap. Players using this machine will appreciate the additional cord space the Nyko Multi-Reader Xbox 360 provides. There is a slickness to the main unit, but the cord allows for grip much better. I did not have any problems with the unit slipping out of my hand though.
I can find no problems whatsoever with the longevity of the Nyko Multi-Reader Xbox 360. This is a unit that should last for years beyond the life of your Xbox 360. The previously mentioned sturdy design needs to have rugged durability added to it in terms of life of machine. The intelligent design of the Nyko Multi-Reader Xbox 360 exhibits an understanding of where things can go wrong. Nyko put in protective measures so one has to go out of their way in order to break the unit.
That is all good and well you may be saying - but do I really need this? If you have more than two people play a game locally at the same time, then the answer to that question is a yes. If you would like to bring in pictures from your digital camera, or songs from your Ipod, then the answer is yes as well. Nyko has put this little unit out on the market for a very reasonable price. I enjoy getting to personalize my Xbox 360 with the Nyko Multi-Reader Xbox 360 with pictures of my kids, and Casting Crowns.
- Yolanda
Graphics: 70%
Sound: 80%
Replay/Extras: 89%
Gameplay: 87%
Family Friendly Factor: 85%
System: Xbox 360
Publisher: Nyko
Rating: 'NR' for Not Rated


Want more info on this product,
or the company that made this product?
Set web browser to:
Link

Got a question, comment,
or a concern regarding this
review?
Email them to:
craftiemom@familyfriendlygaming.com