Nyko Intercooler Xbox 360
SCORE: 82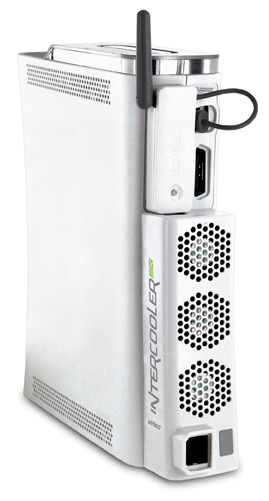 The Intercooler Ex for the Xbox 360 from Nyko is a dream come true for those of us who keep their machines in tight quarters. If you ever checked your Xbox 360 after playing it, the heat of the unit may have alarmed you. This little add on can fix that problem by increasing the air flow in the ventilation. The device receives its power via the pass through method.
One of the most amazing things about the Intercooler Ex for the Xbox 360 is how it looks like it is part of the machine. This piece of hardware snaps on, and comes in the two main colors of the Xbox 360. I felt a real sense of power seeing the three fans that compose the majority of the Intercooler Ex for the Xbox 360. Little hands are kept safe by the intelligent design of the Intercooler Ex.
Intercooler Ex for the Xbox 360 feels nice, but really few people will be touching it very often. This is a snap on, and then ignore piece of equipment. The Intercooler Ex for the Xbox 360 will increase the fan noise slightly. This is definitely noticeable, but not too annoying. It also depends on how close you are to your Xbox 360. I turned the sound up a little bit in order to combat this.
It is really cool that companies like Nyko are producing equipment to correct certain design flaws in the Xbox 360. We have been running our Intercooler Ex for the Xbox 360 non-stop, and it has kept the machine much cooler. It has had no issues with breaking down - so as far as we can tell it will last. Nyko has a good history with their product line, so Family Friendly Gaming sees no reason to have any doubts in the longevity of this product. If you are worried about your Xbox 360 overheating and needing a repair, then a few dollars can be spent to avoid such a problem.
So exactly how useful is the Intercooler Ex for the Xbox 360? In my humble opinion it is very useful for what it is designed for. If you keep your Xbox 360 in tight quarters (and the machine is not exactly small), then it is something that you should seriously consider. I really like the ease of installation, and how it does not require opening the machine up. I have certainly have peace of mind concerning the overheating issue on the Xbox 360 now.
- Paul
Graphics: 78%
Sound: 83%
Replay/Extras: 84%
Gameplay: 80%
Family Friendly Factor: 86%
System: Xbox 360
Publisher: Nyko
Rating: 'NR' for Not Rated


Want more info on this product,
or the company that made this product?
Set web browser to:
Link

Got a question, comment,
or a concern regarding this
review?
Email them to:
pbury@familyfriendlygaming.com