Nyko DS ProPoint
SCORE: 75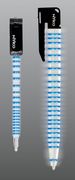 Family Friendly Gaming is continuing our coverage of Hardware peripherals with the Nyko DS ProPoint. This little package has a couple of stylus' and a wrist strap. The most fascinating feature included in this package is how the stylus' light up. A nice blue glow fills the hollow inside as the pictures on this webpage display.
The blue glow has to be one of the coolest and most interesting ideas I have seen in a stylus in my entire career in the video game industry. The color choice does not distract from the backlit Nintendo DS screen, however it does not really add much either. The ridges work nicely with the glow as well. The wrist pad offsets the clear stylus with their black background, and red Nyko logo.
The feel of the stylus took a second to get used to because of the ridges. Once I did get used to it, it felt a little bit better than the normal Nintendo DS stylus. The Nyko DS ProPoint stylus are also larger than the one that come from Nintendo. The size also took some getting used to, but work as good if not better. It may be a preference issue, and length of use as well. The wrist strap feels good, but it is a little loose for me personally.
We have been using our Nyko DS ProPoint for a few weeks now and the little lights are still glowing blue. I am unclear as to if or even how the batteries could be changed. If you are having a problem with the stylus that comes with the Nintendo DS (editor: because it is too small), then this is one package to check out. Nyko did some intelligent things to assist players in finding the stylus if it is dropped. In other words losing these are more difficult to do than the ones that come with the Nintendo DS.
The size of the stylus in the Nyko DS ProPoint ensure it is not a choking hazard The wrist strap is small enough that it could not wrap around a child's neck. The only potential problem could be the cord on the wrist strap. Like any piece of equipment make sure your children (editor: and many immature adults) do not misuse it. I am always a fan of things that make our lives more efficient, and there are some definite uses for the Nyko DS ProPoint.
- Paul
Graphics: 76%
Sound: 71%
Replay/Extras: 80%
Gameplay: 67%
Family Friendly Factor: 80%
System: Nintendo DS
Publisher: Nyko
Rating: 'NR' for Not Rated


Want more info on this product,
or the company that made this product?
Set web browser to:
Link

Got a question, comment,
or a concern regarding this
review?
Email them to:
pbury@familyfriendlygaming.com